Donna and Bob's post-COVID adventures have taken on a theme. That theme actually started with our very first adventure to Pelee Island, the most southerly point of Canada. Unfortunately, we didn't chronicle that trip, but it set Donna on a quest to visit the rest of Canada's extreme compass points. So this adventure is to our great county's most easterly point, in the fair province of Newfoundland.
DAY 1 – Thursday, June 1, 2023
Well this was the travel day from hell. Our Air Canada flight from Toronto to St John's was to depart at 6:15 AM. Donna was arriving by six-hour train ride from Ottawa late the night before, so we (Donna) decided to spend the night before early departure in the airport terminal. Perhaps due to the 2004 film 'The Terminal', based on a true story about a guy living at Paris' Charles De Gaulle airport for 18 years, Toronto's airport seats and benches are specifically designed to be very difficult to sleep on.
Once boarded, we were de-boarded for a 'maintenance oversight'. After a delay, we boarded a new plane but had to wait on the tarmac for four hours due to a 'software glitch'. It's definitely hard to believe an airline's delay excuse is really the whole story. Our arrival at St John's airport was seven hours late. Then a minor kerfuffle at the car rental place because Donna's drivers license had expired—am I being too hard on Dear Donna?
We arrived at our hotel by St John's famous Water Street sleep-deprived, hungry and depressed. Right up until the moment we found The Celtic Hearth on their open-mic night.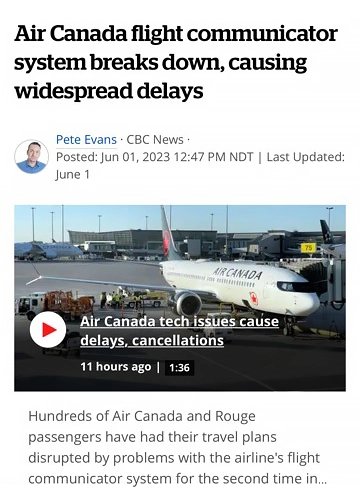 The people of Newfoundland (pronounced nu-fin-land, we were told) lived up to their storied reputation as warm and welcoming. In Newfoundland bars, you are wonderfully engaged by total strangers. We were befriended by locals with the pick-up line, "Hey byes! We should all four of us here start a pub together called Two Bald Guys and One Nearly There."
Donna and I realized that the only reason the passengers of today's horrendous flight AC684 managed to remain civil and relatively calm was because most of them were from here.
Day 2 – Friday, June 2, 2023
Our spirits rejuvenated, we set out for O'Brien's Whale and Bird Tours, just south of St John's in Bay Bulls. The O'Briens tour the seabird sanctuary isles of Witless Bay (a great place name, even by NL standards).
This was more than we expected. What made our tour was our host, Con O'Brien. He was enthusiastic (even though he does this three times a day), very knowledgeable about the seabirds and he sings! Turns out he's also a member of The Irish Descendants, a NL-based folk group that tours across Canada and internationally.
Here's what we learned from Con: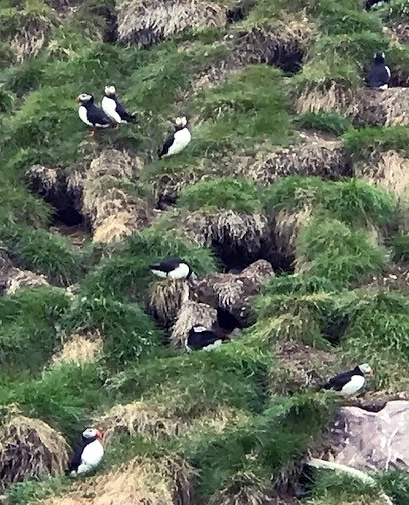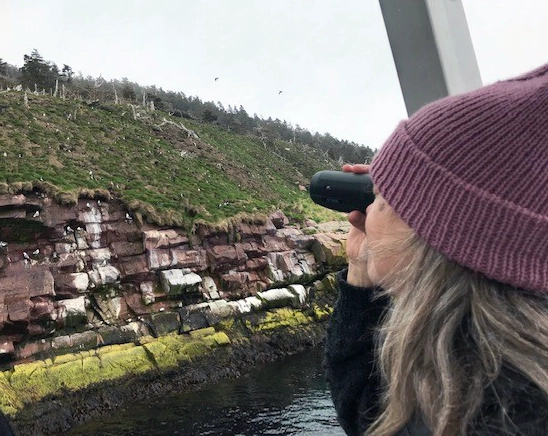 Puffins are smaller in real life than you expect. They have evolved to swim like penguins and fly a bit like hummingbirds. This is because their wings are small to work like flippers in water, so they need to beat quickly for flight. In flight, they look like small rugby balls. The bright orange part of their beaks sheds and regrows every year. They can dive up to 200 feet in search of their favorite food fish, the capelin. They nest in six-to-eight-foot burrows so their colonies look like those of the prairie gopher. They spend all of their time in and on the sea, except for the short birthing season in this colony. They mate for life.
But there are equally-interesting relatives of Puffins here too. Common Murres and Razorbilled Auks. Murres don't burrow, they lay a huge single egg (one-third the weight of Momma!) and hold it against the stone cliffs with their bodies. The Murre couple (who also mate for life) take turns feeding their hatchling for a month, then Momma shoves him/her off the ledge and into the sea. The chic can't fly at this early stage, so he/she swims after Daddy all the way to Greenland and back. I fact-checked Con to see if any Irish blarney had crept into his amazing ornithological dissertation. I only caught one: Con told us Mamma Murre gives her baby a gentle peck on the cheek before the big shove—she does no such thing.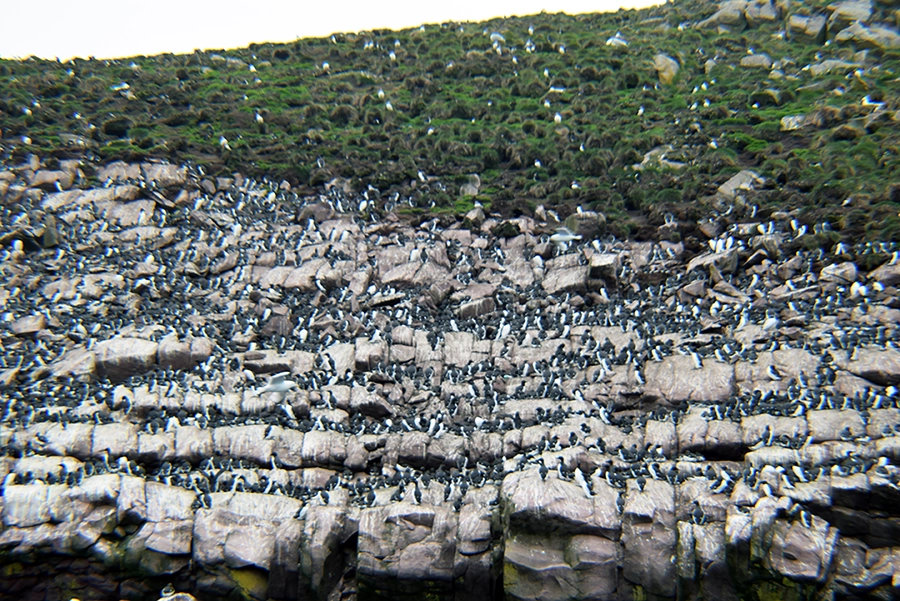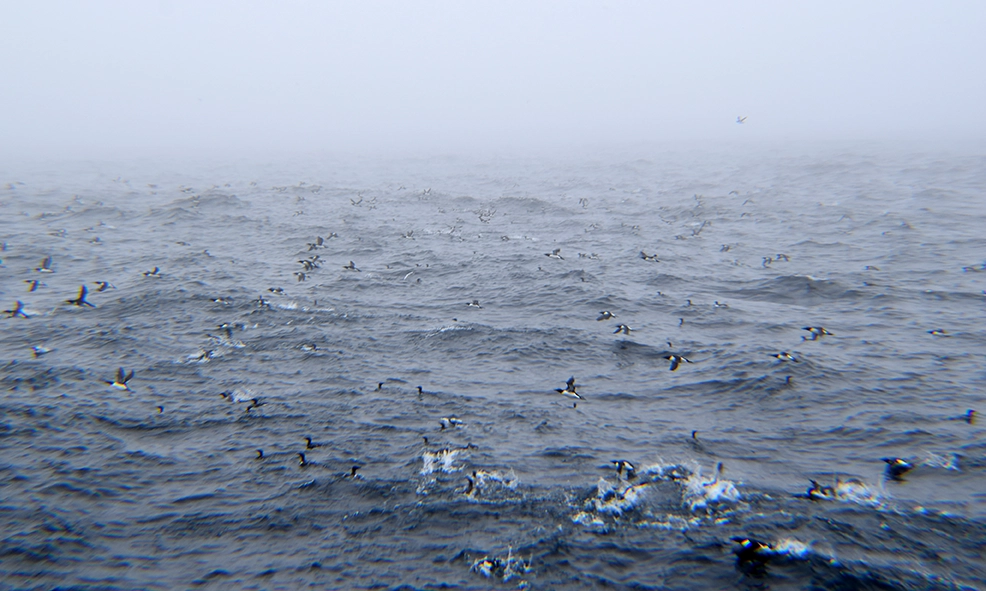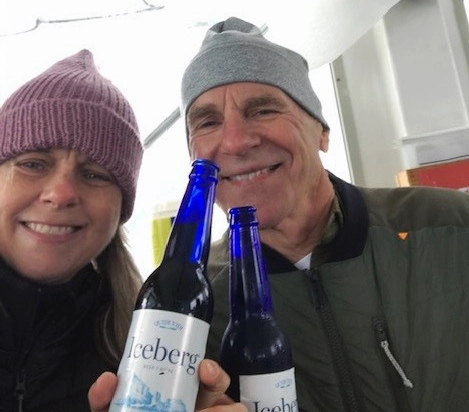 All of this and more, interspersed with Fishermen's-Friends-worthy acapella renditions of Mary Mack and I'se the B'y, a couple of Icebergs and Bob getting Screeched-In [1].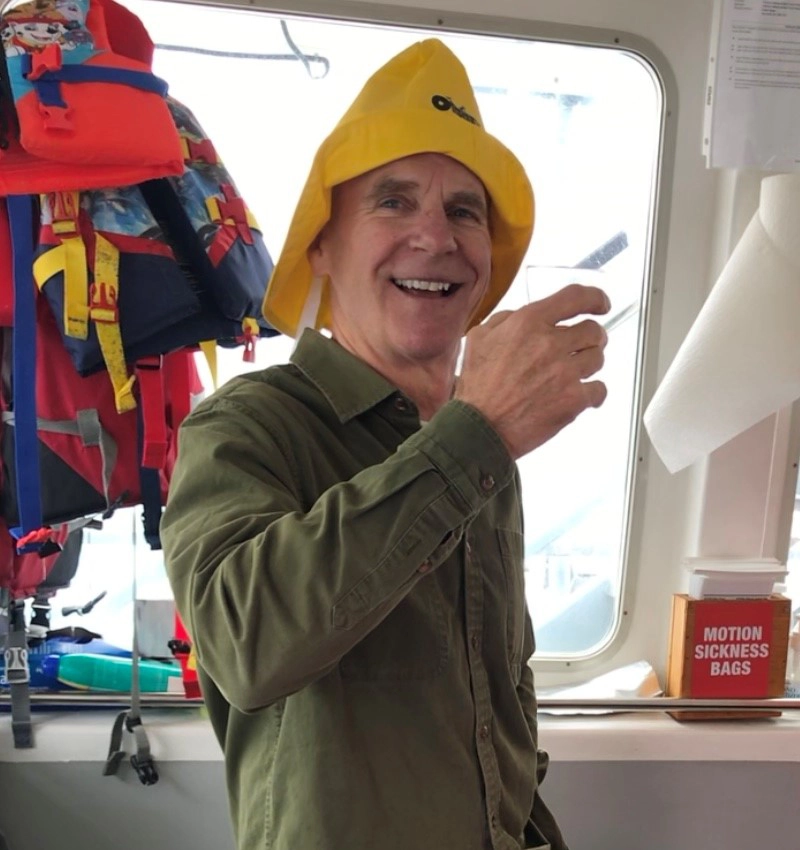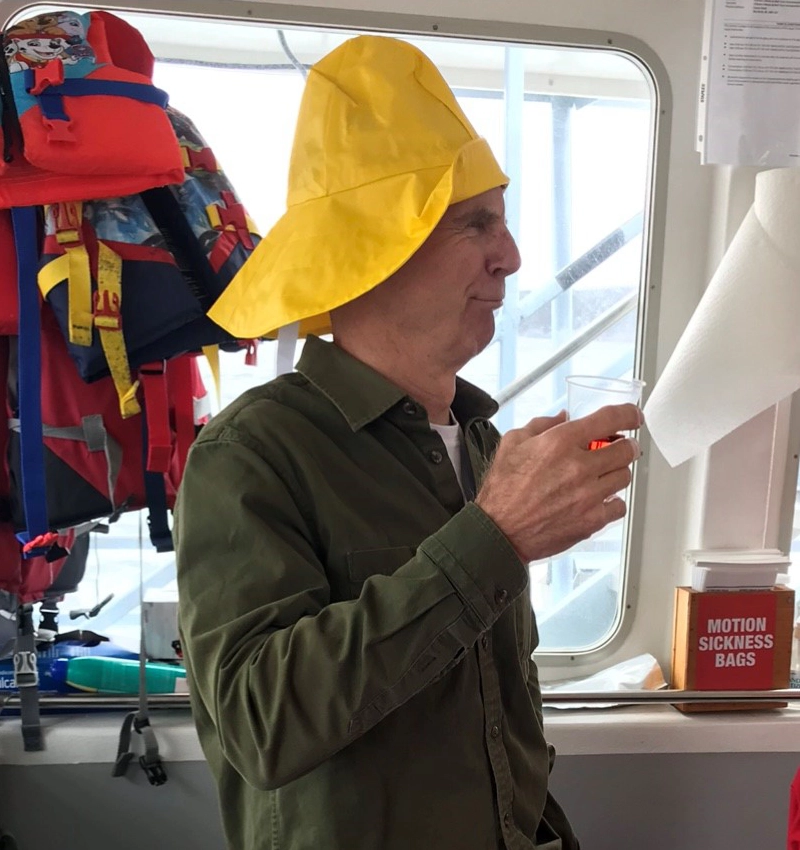 Then off to Port Rexton, with Donna at the wheel—after her Iceberg wore off. Bob was still recovering from his newly-ordained (honorary) status as a citizen of Newfoundland.
Our final destination was Fishers Loft Inn, recommended by Marg and David Lailey. It was started 25 years ago as a B&B by a Peterborough, Ontario couple. Port Rexton seems to be an artist and crafts person's mecca and the Fishers tried to use it exclusively in building their masterpiece. This is all chronicled in a beautiful coffee-table-style recipe book that includes a forward by Dame Judi Dench. The Dame stayed at the Inn while filming Shipping News in 2000.

The accommodation and food were simple but beautifully-curated and worthy of aristocracy. We think Fishers Loft Inn may have been the inspiration for the world-class (and world-class-priced) Fogo Island Inn.
That night we watched Shipping News and recognized the view from the Inn in several scenes. If we were Quoyle [2], our headline for this day might be:
"Deadly Beauty Captures 'From-Aways' and May Never Let Them Go."
Notes and stuff:
---
Screech-In is a tourist hazing thing. They make you an honorary Newfoundlander, which requires making you look, talk and drink the part. The drink is, of course, a shot of Screech.
In the movie Shipping News, the lead character is Quoyle (yes, played by Kevin Spacey, before). He's a newspaper reporter who gradually learns to write catchy headlines for the local Newfoundland newspaper.
Day 3 – Saturday, June 3, 2023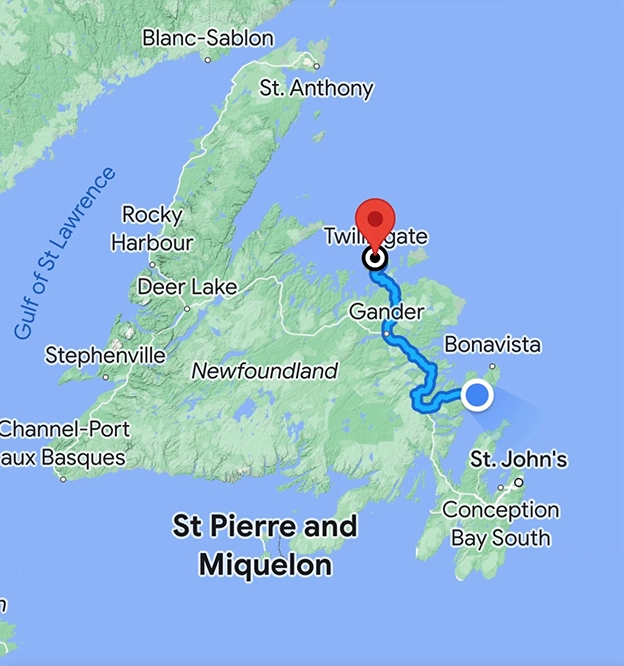 Today's itinerary took us from Port Rexton to Twillingate, the latter being The Iceberg Capital of the World—at least according to the commercial iceberg tour guides there. We packed shorts, sunglasses and sunblock for this trip. June is almost summer, right? Not this year in Newfoundland. It hasn't been sunny yet, but our prospects still seem bright.
First order of business was a hike on the Skerwink Trail, minutes from Fishers Loft Inn. Thank you, Margaret, for this recommendation too. The trail is very well-maintained—NL must have more national parks per capita than anywhere in Canada. The track rose to great heights and views of Trinity Bay.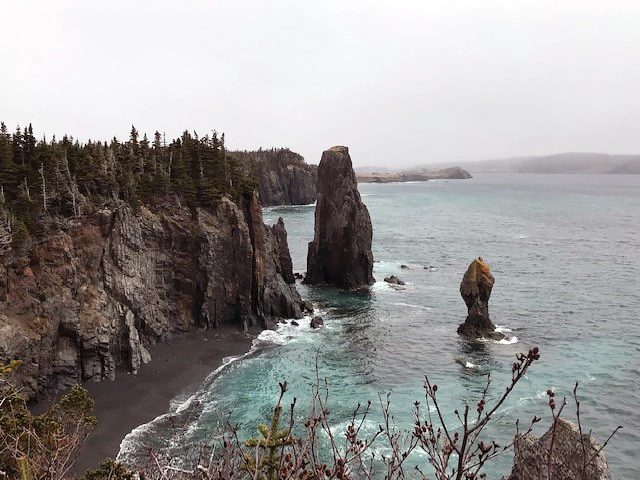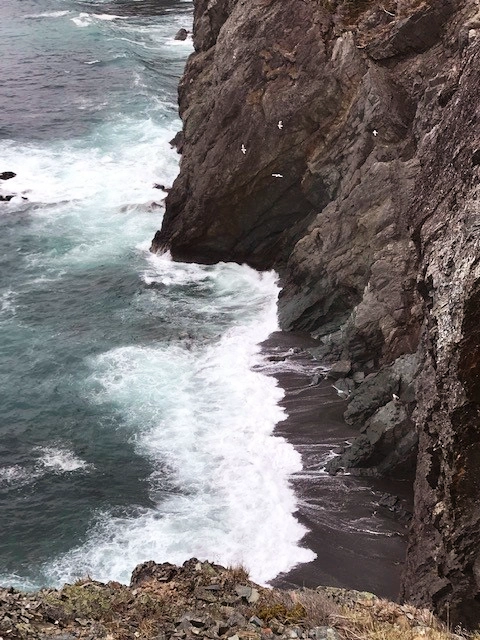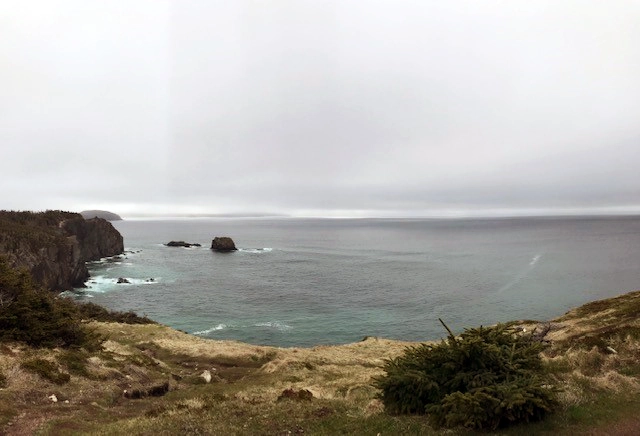 The trail was fairly easy climbing, but in many places, we were quite close to high cliffs with only the Atlantic Ocean below. Luckily, these spots were well marked. Secretly, Donna was thinking Bob might not be fully recovered from his Screech-In.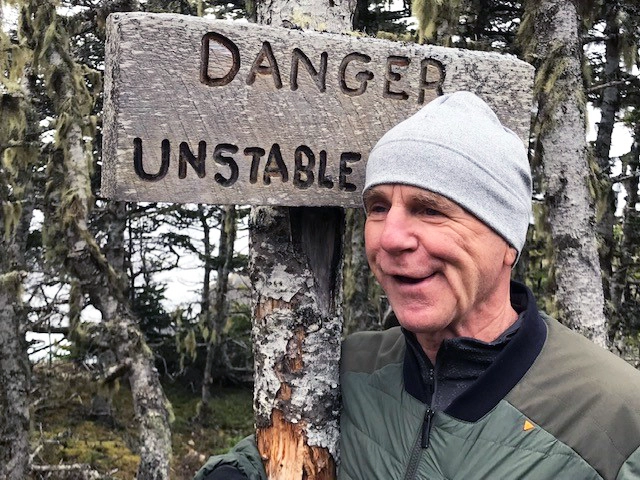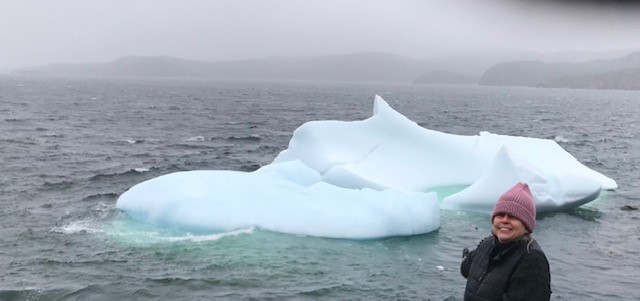 But weather is always a variable in Newfoundland. By the time we got to Iceberg Quest Ocean Tours in Twillingate, wind had whipped up the sea so much that our tour was cancelled. The tour company's owner went to heroic efforts to have us reschedule for the next day, but that would have changed all our plans. So we drove off down-hearted that we weren't going to see the icebergs. Right up until we found a big roadkill iceberg grounded at the side of the highway.
Our discovery wasn't exactly the Mother of all Icebergs, but we were elated. Right up until we noticed, in a little bay farther down the causeway, little baby icebergs. Separated from their mother, melting down all on their own.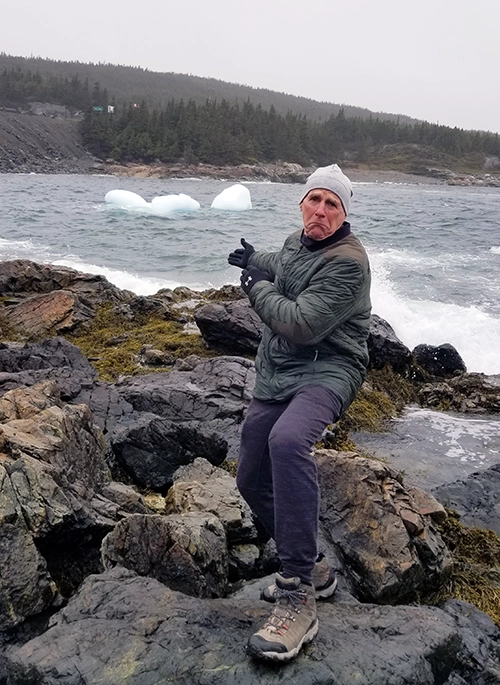 Bob later noticed Twillingaters visiting our roadkill iceberg site to scoop up bits of blue-tinged ice washed up on shore. They were filling coolers this way. Big-city Bob finally questioned one of the locals on this with the smart-assed question, "Excuse me sir, but do the freezers in your refrigerators not work in Newfoundland?"
To which the small-town Newfoundlander earnestly replied, "Well B'ye, Regular ice lasts in yer glass one drink. But iceberg ice, why, it lasts fer three."
Day 4 – Sunday, June 4, 2023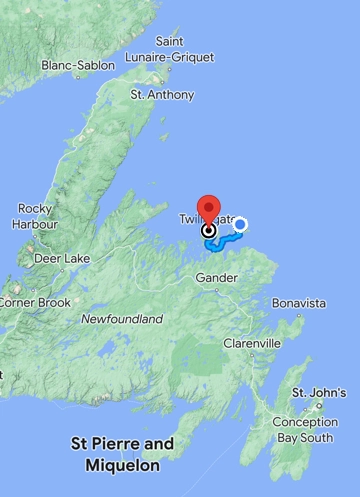 We left Twillingate for Fogo Island, which was our first experience with the legendary NL ferry system. It's the on-boarding line-ups that are legendary, requiring early arrival and lots of waiting.
We said farewell to 'mainland' Newfoundland at Farewell. We drove across the province's largest island to the outport village of Fogo. It was immediately obvious that icebergs loom large here at this time of year. It's just that there aren't commercial sight-seeing boats circling them here. Icebergs are constantly moving and melting, so they're constantly changing, even over the course of a day. Big flat-topped bergs have waterfalls of melt water coming off them.
Case in point would be the 'Dickie Iceberg' that made CBC National news this May. It was photographed by a man from Dildo (of course). This image was not Photoshop-ed. It formed and, sort of, melted away in relatively short order…
Excited by this, Bob was hoping the day would be warm enough to see an iceberg be a penis and a vagina in the same day, which would be very on-trend. Unfortunately, no such luck.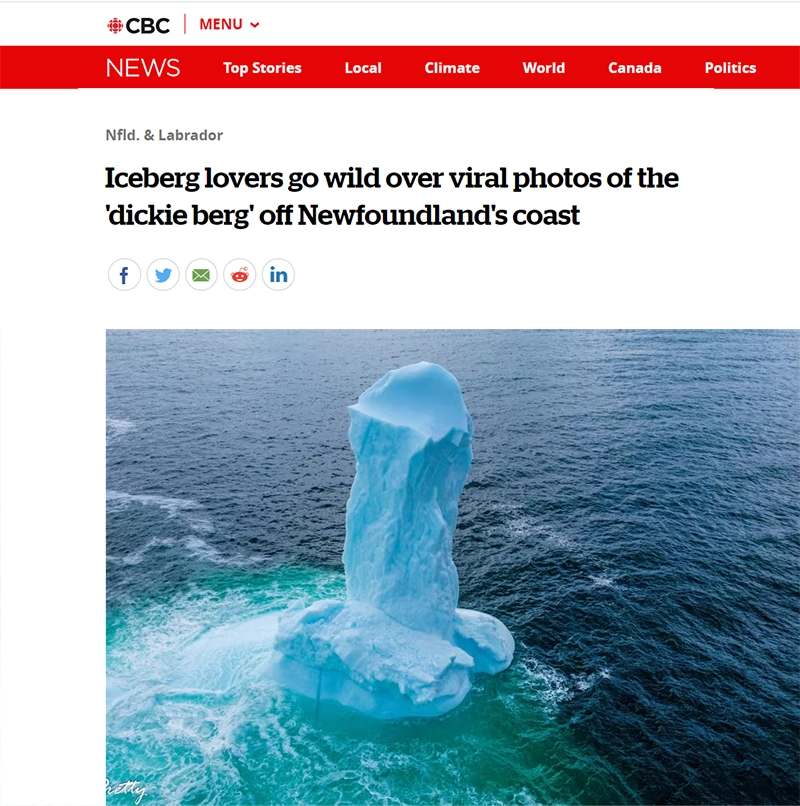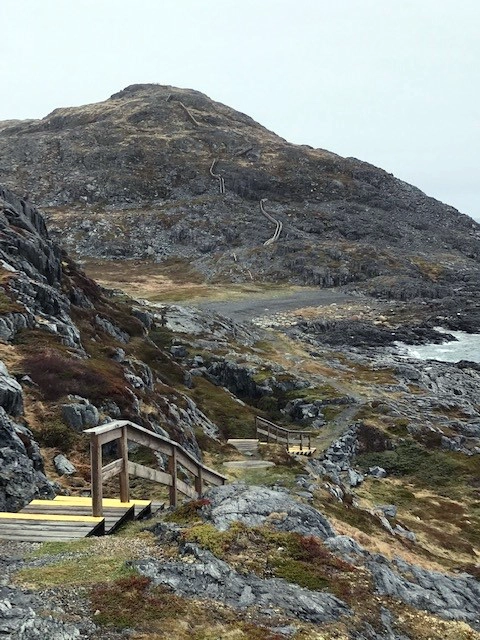 Not much is open on Fogo on a Sunday, so we started with a hike of the Fogo Head Trail. This included an elaborate stair system and more stunning views of the sea.
Big traditional icebergs here. As opposed to the ones floating past Dildo…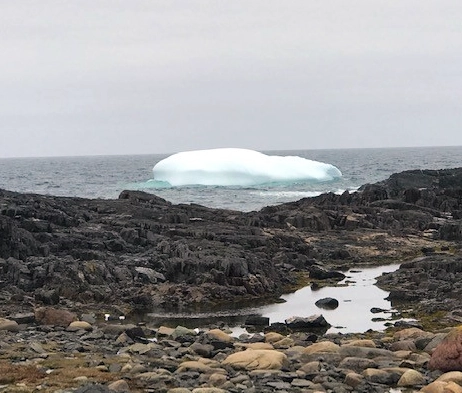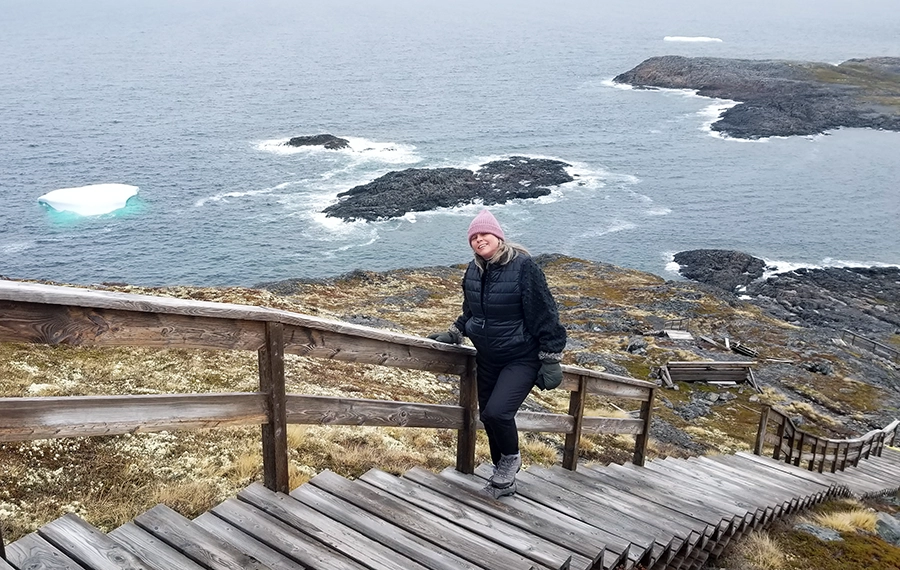 At times, the bleakness of the Fogo Heads looks other-worldly.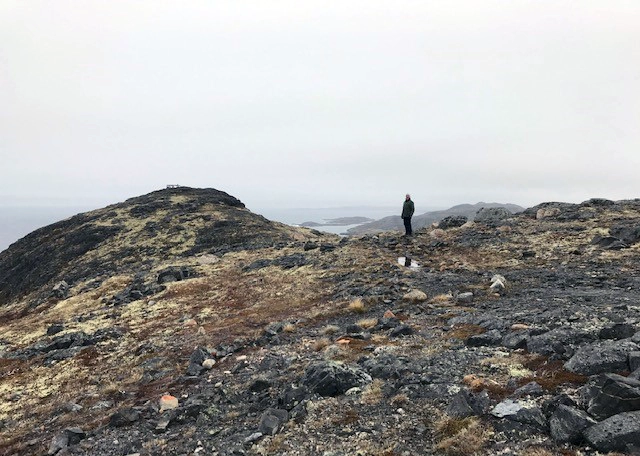 But then the lovely wee outport of Fogo brings you back down to Earth.

Then it was a driving tour of the nearby outports of Shoal Bay, Barr'd Islands, Joe Batt's Arm and Tilting.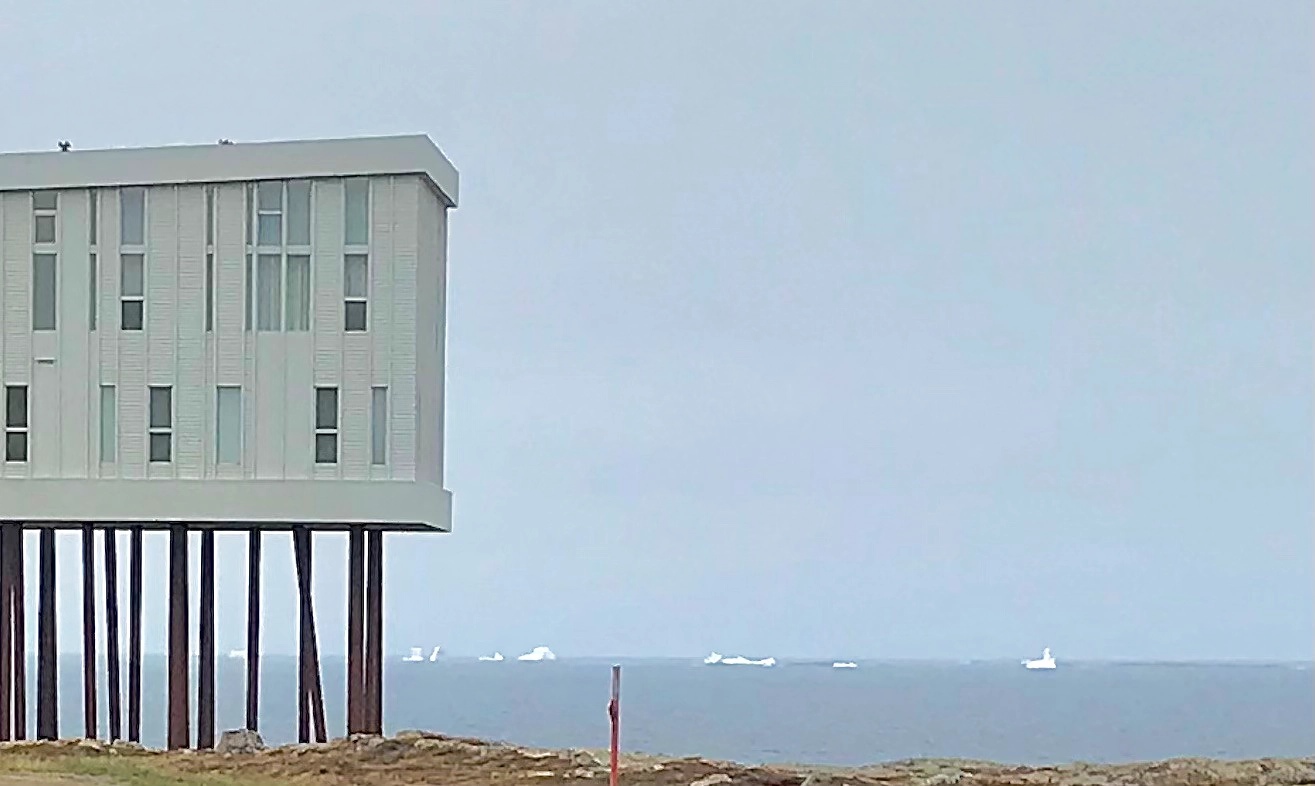 What looms large here, literally and figuratively, is the Fogo Island Inn. This is the uber-trendy and very expensive hotel built by Joe Batt's Arm native Zita Cobb. A night's stay at the Inn currently starts in the $3,000 to $4,000 range. Needless to say, guests come from around the world. At the time of our visit, all 29 rooms were occupied. Ms Cobb was a senior executive of a major US tech firm and became very wealthy through stock options, but while she was growing up in Joe Barr's Arm, her family home did not have indoor plumbing or electricity. In early retirement, Ms Cobb returned home, created a foundation called Shorefast to build and run the Inn. That was 10 years ago. The purpose of the foundation is giveback to the local community and to sustain the original Fogo culture.
While waiting in line for a coffee when we first arrived in Fogo, we met Maureen, a chatty local from the Irish outport of Tilting. Maureen is the gatekeeper/security guard for Fogo Island Inn, though there was no hint of a taser or firearm on her. As we later learned, she's also famous for having the best shed parties on the island. Maureen told us we could visit the Inn's art gallery that afternoon as non-guests. So we did.
The exhibition was Shorefast's initiative to rehabilitate a heritage church in the area. Our attentive and very knowledgeable host was Paddy (yes, another Tilting-ite), who began with the Inn as staff photographer. Everyone we met was a perfect ambassador for Shorefast's mission.
Then it was local dining and a chat with our B&B hosts, both lifelong Fogo people.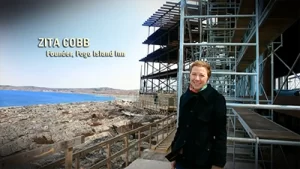 In bed, we re-watched the 2015 episode of CBC's 'Still Standing' that features Fogo Island. We had seen it years ago. Host Jonny Harris hails from Pouch Cove, an outport directly north of St John's. And there was Maureen and Paddy, who seemed like friends at this watching. To see that episode, click on the image right.
Giveback and community is honest and more than just words here in Newfoundland.
Day 5 – Monday, June 5, 2023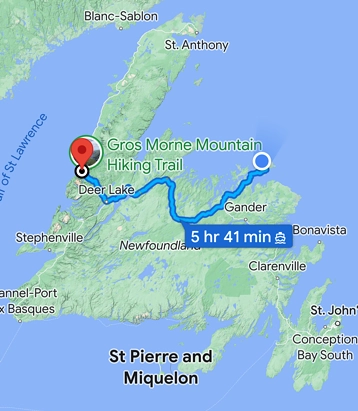 This was our first long-drive day. All the way to Gros Morne National Park. Not a huge change in weather, but a big change in vegetation and topography. By the time we reached Gros Morne on the centre of the west coast, Newfoundland looked very much like BC's west coast.
The Tablelands is everyone's must-see in Gros Morne. They're on the southwest or Woody Pointe side of Bonne Bay. It gets its name from the flat-topped shape of the 'Tableland mountains'. But you need to be at a distance to see this. Here is a shot Donna took at the end of the day from Norris Point on the other side of Bonne Bay.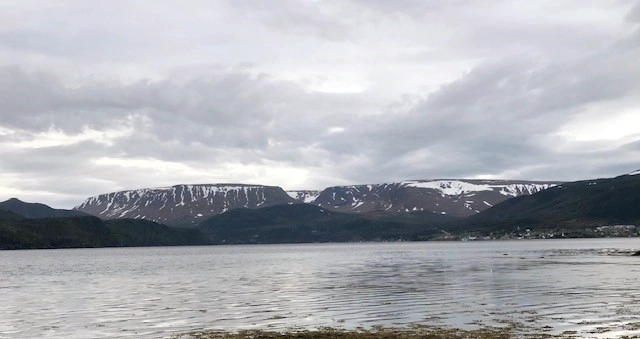 The Tablelands was formed by an usually deep part of the Earth's mantle inexplicably pushing up to the surface in one place. The mineral content of the rock creates a yellow-orange colour on the surface of the rock. Because most plants can't tolerate the rock's mineral combination, almost no soil forms. The soil that does form doesn't support much growth. This is alien soil. Just like the surface of Mars.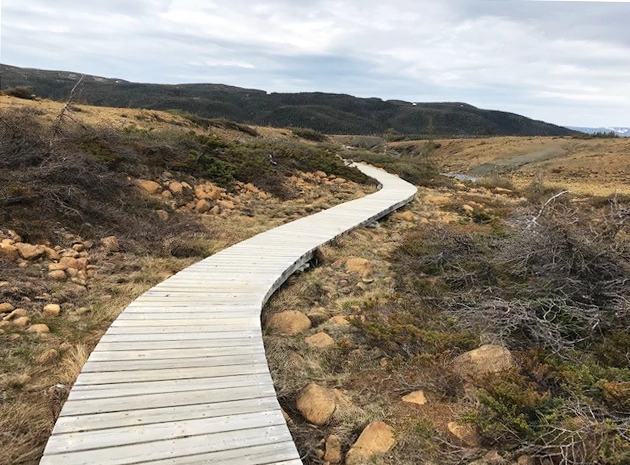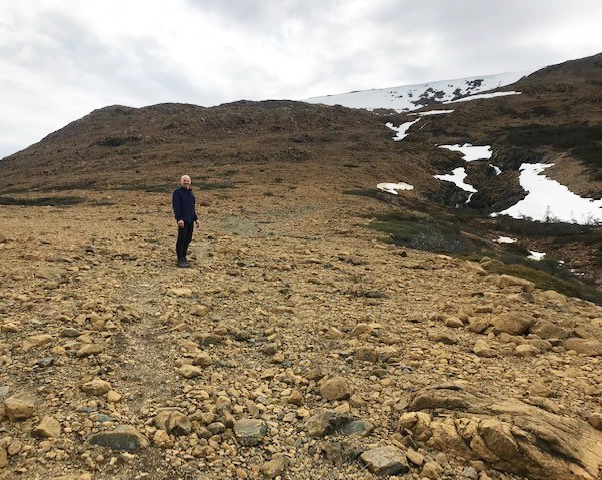 Well, it didn't take long for a fellow hiker (whom we had met in Twillingate) to convince Bob that it was much more fun to hike Tablelands off-piste. Donna, ever the good sport, followed quietly.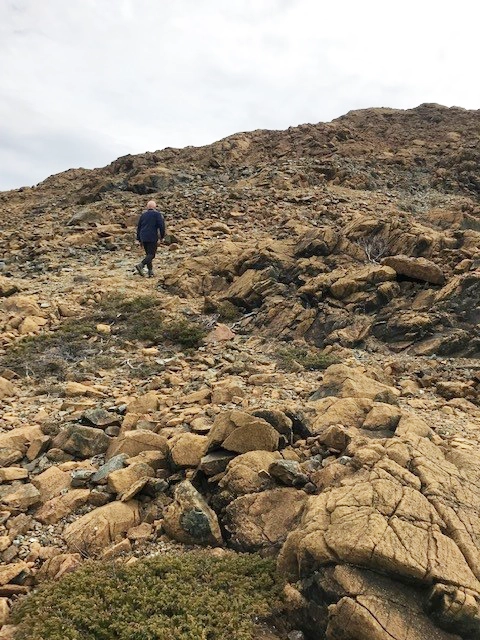 The accent up Tableland mountain began up the fleetingly visible off-piste trail. The distance between the photographer and the subject increased.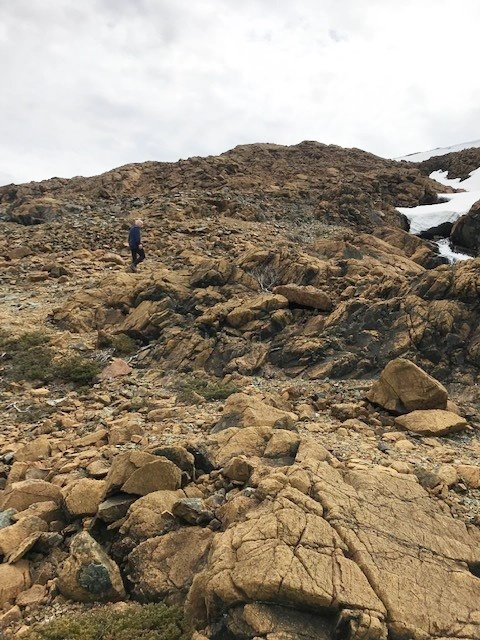 About three-quarters of the way up, Bob realized that although the view of the landscape kept getting better, the view of Donna had disappeared long ago. Recognizing he was an honourary Newfoundlander destined to live in Witless Bay, he headed back down to find the official trail and Donna.
This was the photographer's preferred distance from her subject upon our return to the official trail. Completely understandable.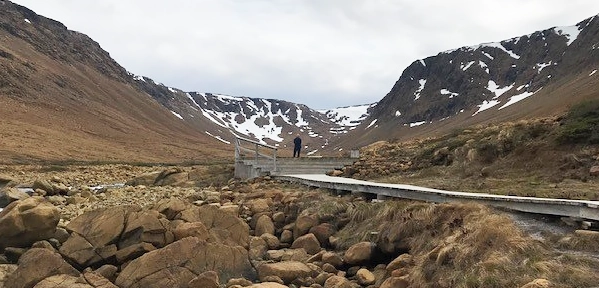 The official trail end, at the bowl between the two mountains that make up The Tablelands.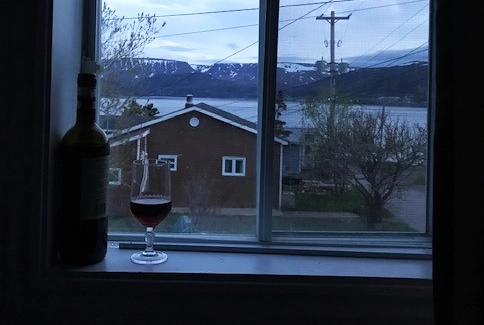 Then we were off to our B&B in Norris Point. At a distance, and in lower light, The Tablelands lose their unique colour. That night, a power outage nudged us to an early bedtime, with The Tablelands still illuminating our view.
Day 6 – Tuesday, June 6, 2023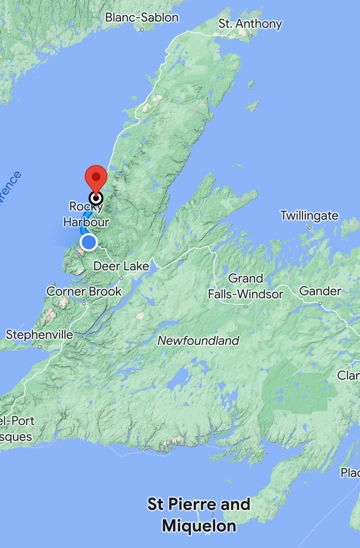 This was our second day in Gros Morne. Our plan was to knock off the second of the two must-dos in the Park: The Western Brook Pond Tour. Clearly, Gros Morne deserves more than a two-day visit.
But first stop was to the Lobster Cove Lighthouse in Rocky Harbour. Donna has a friend whose family were the original lighthouse keepers here.
It's hard for From-Aways to understand how critical a lighthouse is to a community that revolves around fishing and the sea. The lighthouse is the local community's guardian and sea-traffic controller. Luckily, outport lighthouses don't force isolation on their keepers.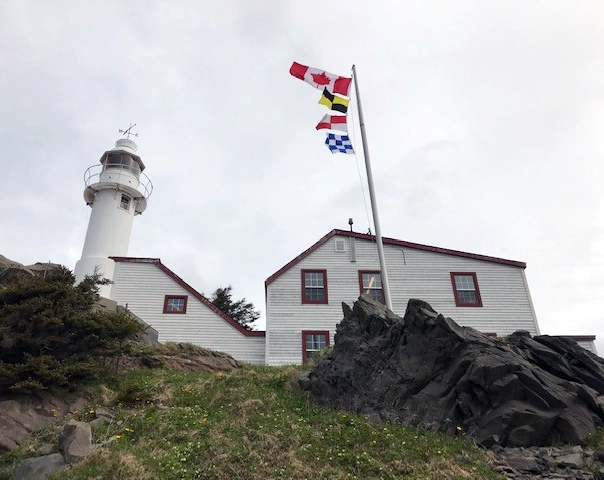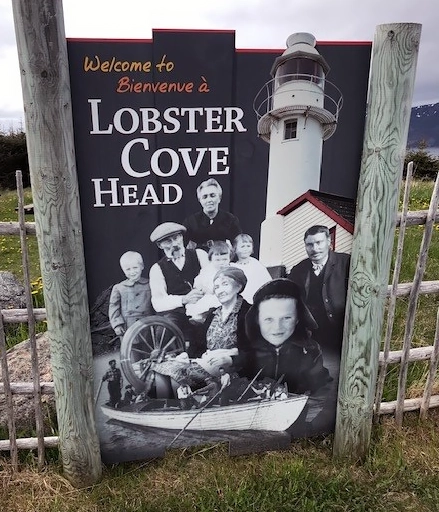 George Young was Lobster Cove's last (human) lighthouse keeper. He was uncle to Louise—Donna's friend. The older woman at the centre of the collage pictured here is Louise's grandmother.
The lighthouse is a busy tourist site now. Just as we rolled out, a tour bus rolled in.
Western Brook Pond is a spectacular 16 km long freshwater fjord, carved in the Long Range Mountains by glaciers. It's accessible only by tour boat, via a 3 km walk-in from parking lot to wharf. This is all run by BonTours, who seem to be involved in everything that happens in Gros Morne Park.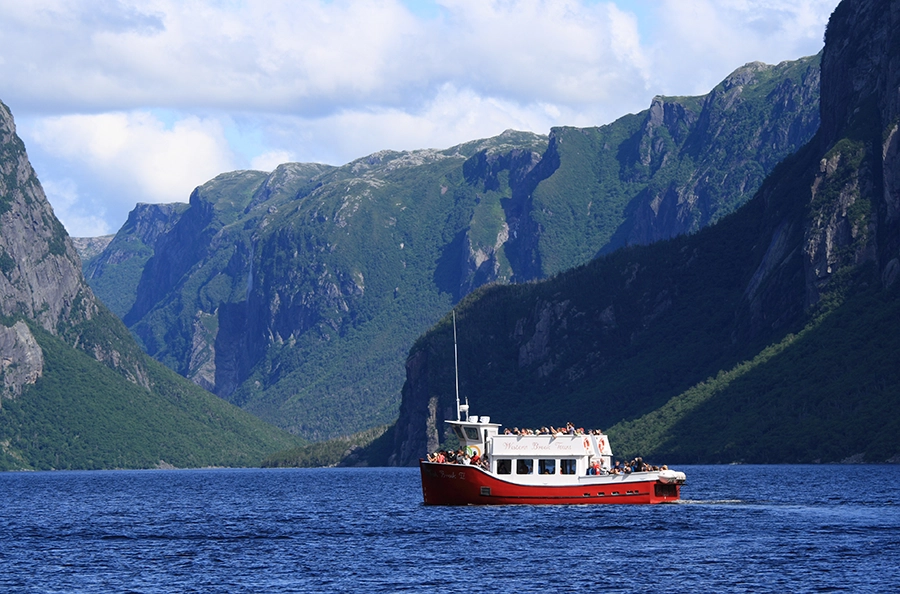 In our opinion, viewing the Pond on a warm, blue-sky, sunlit day on glass-calm water is for sissies. Our tour was for harder folk. Maybe even Newfoundlanders. We had been warned by our B&B host in Norris Point that Pond tours can be cancelled in high winds. Bob thought this was crazy—a fjord is very protected from every wind direction but one. But in that one direction, a fjord creates a wind-tunnel effect like downtown Toronto has never seen.
Just before we boarded, Donna was the first of 160 passengers to spot a caribou across from the wharf. Little did we know how (relatively) momentous this would be. Must have been the monocular.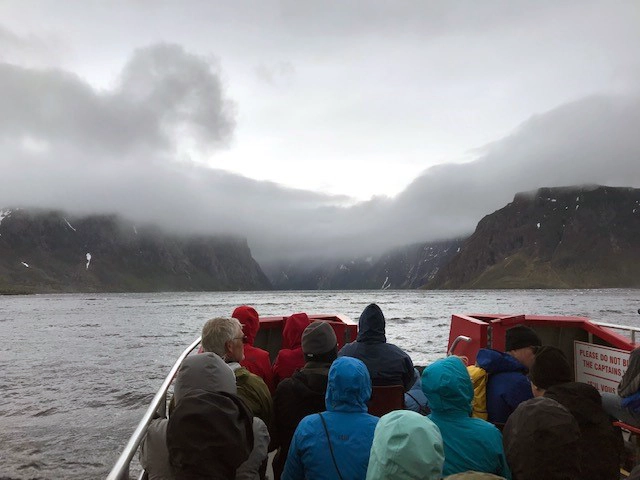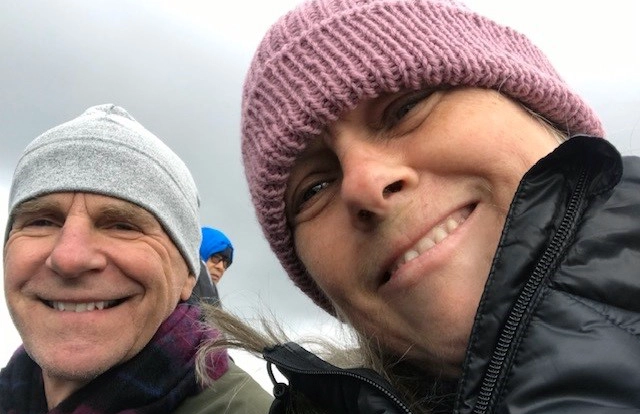 I guess we were experiencing that one bad wind direction.
Before we even made it to the mouth of Western Brook Pond, Captain Reg aborted the mission. He hadn't looked quite right from the outset of our voyage. Maybe because last night's power outage had cut short his famous Anchors Aweigh kitchen party in Rocky Harbour.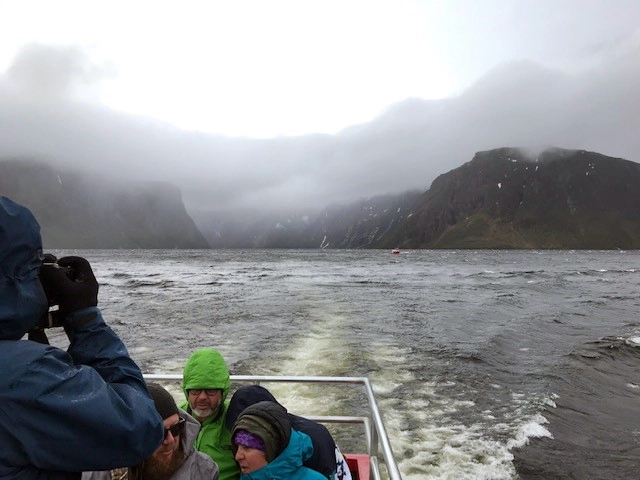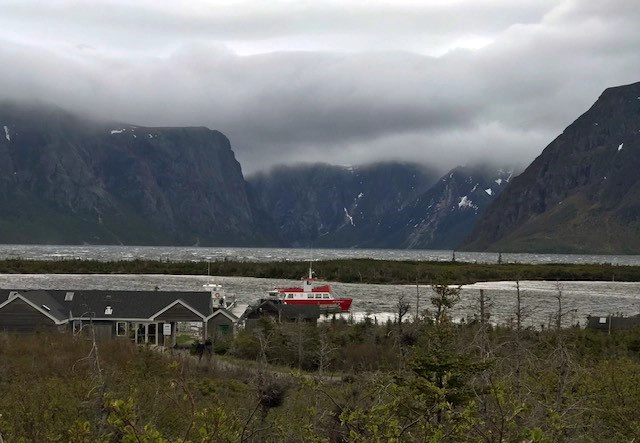 The wind pushed us all the way back from wharf to parking lot.
The rest of the day was spent drying off, warming up, hiking a short trail and winding down in our cozy Shallow Cove cabin.
Day 7 – Wednesday, June 7, 2023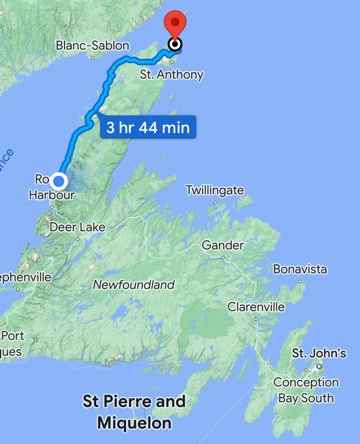 Today's forecast was 100% rain—all the way along the Viking Trail, which goes to the very tip of the Northern Peninsula. That's where L'Anse aux Meadows, the Viking settlement, is. This is further north by latitude than you would think. They are currently getting 16 hours of daylight, obscured by fog and rain, of course.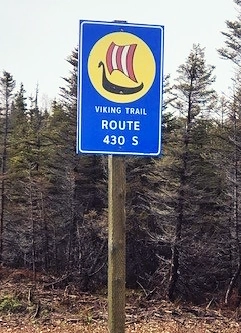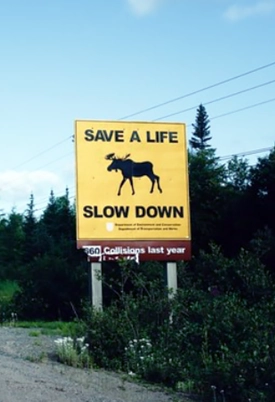 Leading up to this trip, we heard many warnings about the dangers of moose on the highways. They out-number people 4 to 1. Once here, we saw a wide variety of road signs highlighting the driving hazard they cause. Bob's favourite was this one, because it isn't clear whose life the Newfoundlanders are most concerned about. After a while you get a bit numb to the danger.
Just north of Hawkes Cove, with Bob buried in blogging and Donna at the wheel, a moose statute formed out of the mist at the side of the highway. There was one car in front of us at the time and no other cars on the highway. Just as we got beside the statue, it galloped across the highway between the only two cars it could find, which were both moving at the speed limit. Donna's hard braking avoided us becoming another Newfoundland statistic.
The moose here are shockingly nimble. And shockingly stupid, though the latter issue usually takes care of itself.
Finally, this looms out of the mist. We're at L'Anse aux Meadows National Historic Site.
This is the only authenticated Viking 'settlement' in North America. Proof that the Vikings (Norse) reached this continent—long suspected but only proved in the 1960s. It was 1,000 years ago. It's now a UNESCO World Heritage site.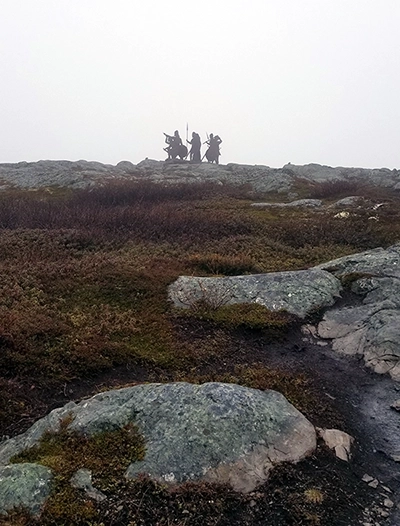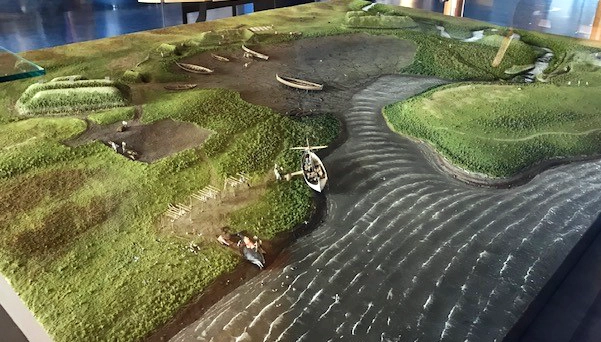 First, you enter the main pavilion that is the Visitor's Centre. At its centre is a scale model of the settlement.
Then you walk outside through the buried remains of the original buildings—halls, houses and huts. We were literally walking in the footsteps of Leif Erikson, son of Erik the Red.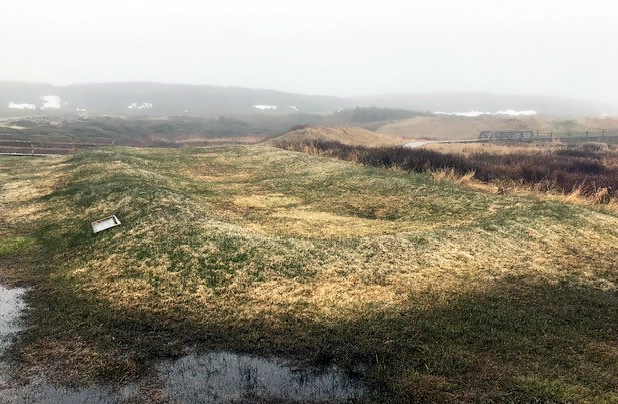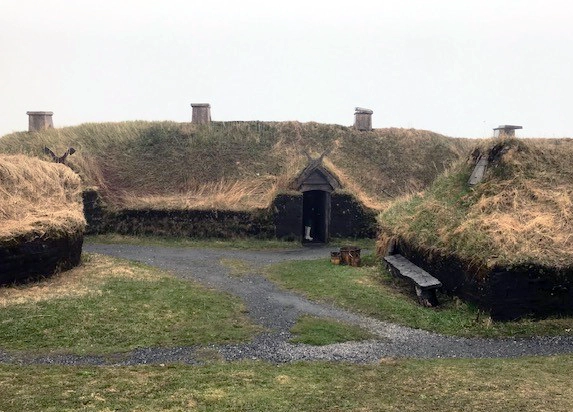 Then you enter the replica site with one of each type of building.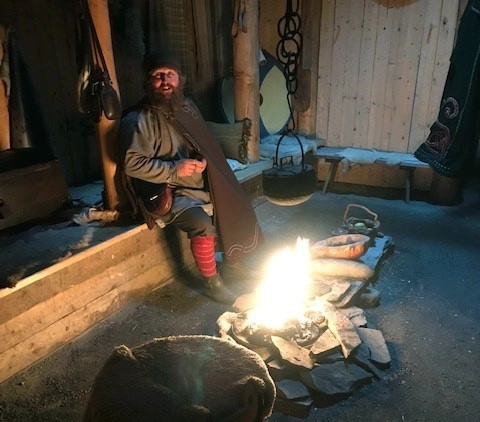 Inside the main dwelling are these fellows—Viking Re-enactors in full costume.
Our Viking knew his history and was an amazing raconteur.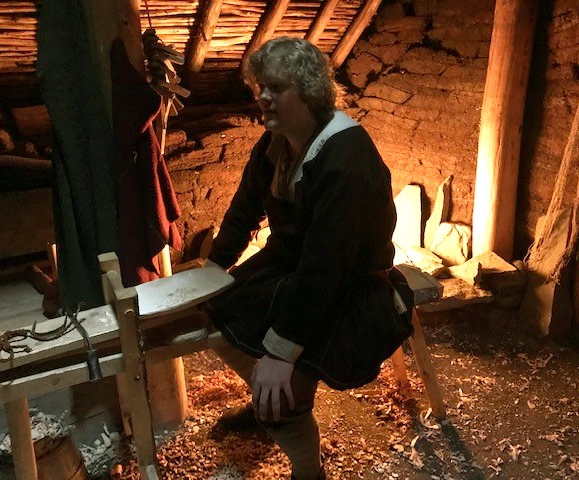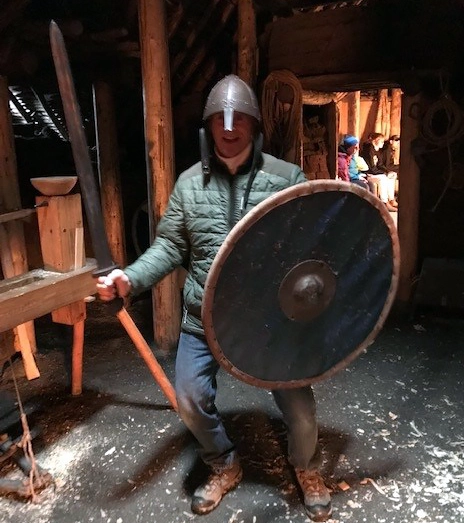 But not all of the Viking Re-enactors you meet inside actually know what they're doing.
Donna as Viking Seamstress. The attention to authentic detail in these buildings is amazing.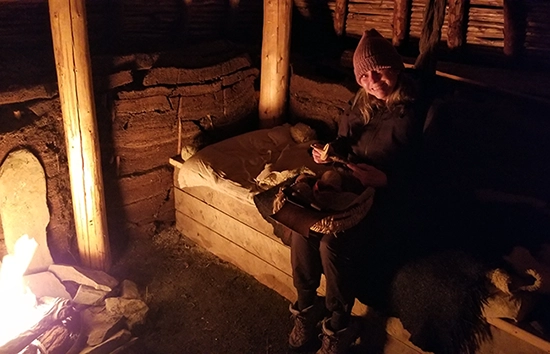 I have always assumed that the Vikings failed in colonizing Newfoundland or anywhere else in North America. They were, as you know, the world's nastiest, most successful rapers, pillagers and colonizers for two centuries before they came to L'Anse aux Meadows. Anyone who heritage traces to Scandinavia, the UK, Europe—even parts of the Middle East and Russia—have some Viking DNA in them.
Turns out they never intended to colonize Newfoundland. L'Anse aux Meadows was a basecamp for scouting and foraging operations for home base in Greenland. They did harvest the treasures of timber, fish and grapes (?!), but after 10 years, home base's plans changed and the Vikings left. It took four or five more centuries for Newfoundland to be re-discovered and colonized by the West Country English.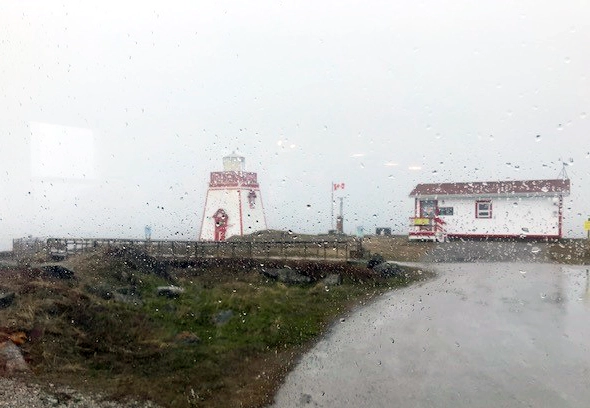 We left in awe of the ingenuity and toughness of the Norse people. And in the rain and fog.
Then early dinner at a charming lighthouse café in St Anthony's.
We thought our navigation system failed us in our search for this evening's B&B.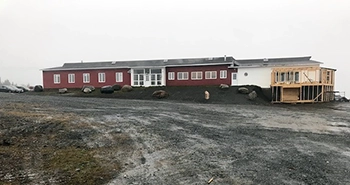 It led us here, in the middle of nowhere. Oddly reminiscent of the Bates Motel. Complete with a Norman and a 'Ma' we never saw, running the sprawling place on their own. There were no other guests when we arrived. We were shown to the Machete Room—wait, maybe it was the Strawberry Room. No, the nav system wasn't wrong. This is the one place Donna was worried about after booking.
Nothing a little wine couldn't take the edge off, though. Then other guests arrived and conversation with Norman improved. He was really more of a Quoyle (see Shipping News reference in Day 2). Never saw Ma. This big old motel-cum-B&B felt like a microcosm of much of Newfoundland:
Good ideas, good intentions, no lack of hard work, but often not enough money to do things really well.
Day 8 – Thursday, June 8, 2023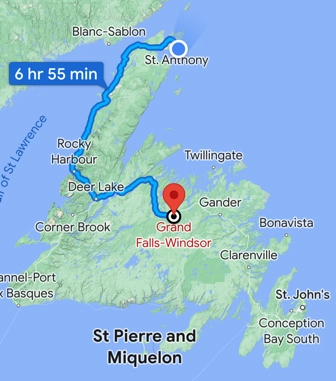 Donna arose this morning from the best sleep of our trip—fully intact.
Today was a long drive day from St Anthony's to Grand Falls-Windsor. That's 625 km of driving, switching up drivers and catching up on blog post writing.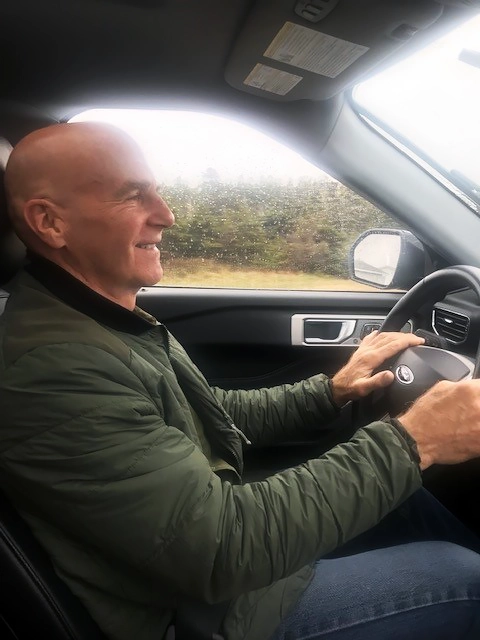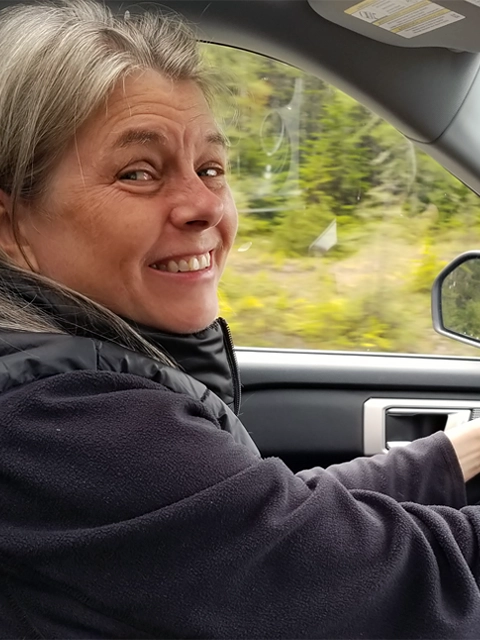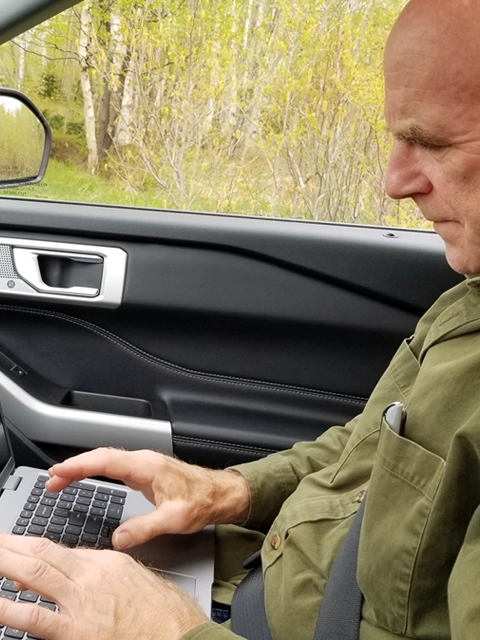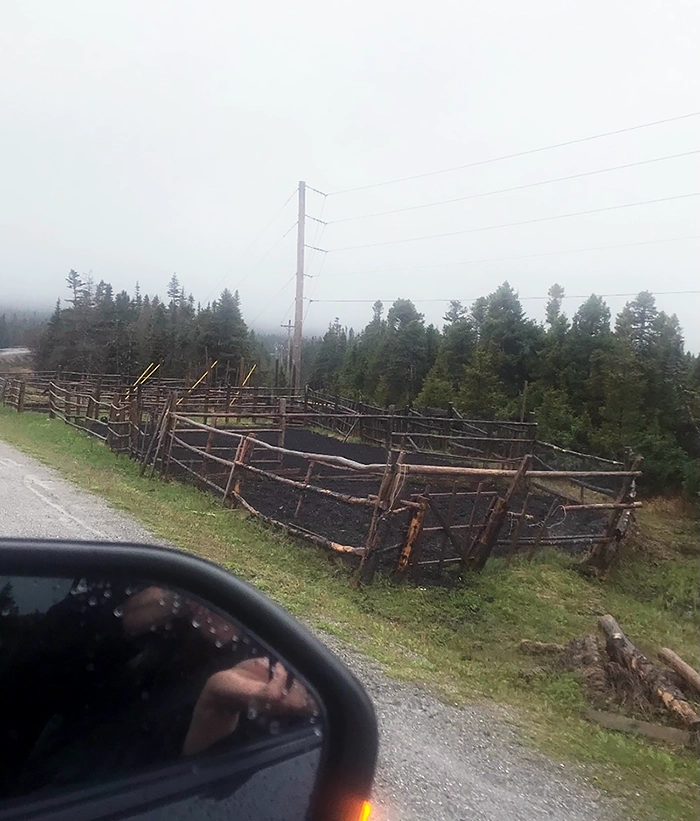 The long drive gave us time to marvel at little things we've noticed along the Viking Trail. There are little garden plots along the highways wherever the soil is good enough—which is a rare enough occurrence. Some plots have rudimentary fences, many do not.
There are also stacks of firewood that the locals have brought out of the bush in winter on rough sleds, often far from any homes or buildings. There are even stacks of lobster pots in many places. All of these roadside attractions operate on the honour system. These roadside collections remain untouched by others. As untouched as the shorts and sunblock in our luggage totes.
This would not work well in other provinces.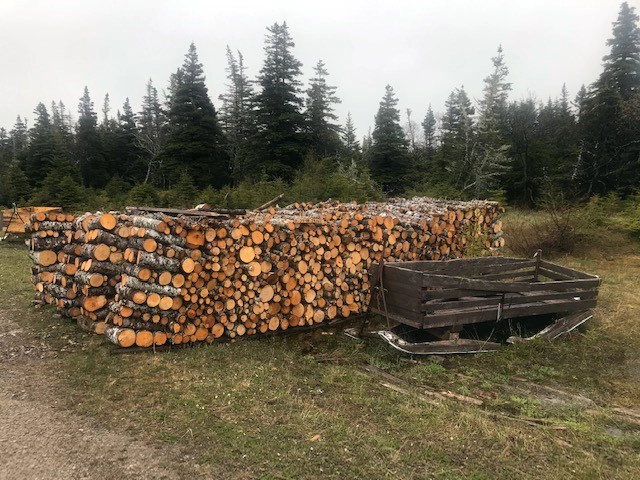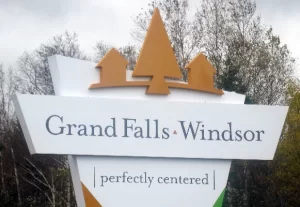 In most conversations I had about Newfoundland—before coming here—people would say things like, "There's nothing worth seeing in the middle of the Rock" or "Nothing special about Grand Falls-Windsor". I always surprised because all I know about Newfoundland came from a family-biographical novel that focussed on Grand Falls. The Danger Tree, written in 1991 by David MacFarlane, is about his mother's family, the Armstrongs. The family was iconoclastic—they moved away from the outport of Ladle Cove (near Twillingate) to the true middle-of-Newfoundland-nowhere, just as Grand Falls was starting to develop as a newsprint production centre for a British newspaper magnate. I had the privilege of talking to David about his book when our Gentlemen's Book Club meeting was discussing it—David is older brother to one of the members.
Here's what I learned about the place and the people of Newfoundland from The Danger Tree. At least the bits relevant to our adventure:
Newfoundlanders are fiercely independent. Historically, they have felt closer to England and Ireland than the rest of Canada. When NL finally joined Canada in 1948, it was the oldest British colony. The decision to join Canada turned on a slim 52%-48% referendum margin.
Newfoundland sent more soldiers to WWII and received fewer home—per capita—than Canada did.
Newfoundlanders have historically liked America and Americans because the building of three US military bases here, around the time of WWII, resulted in the greatest period of economic growth. This may partially explain the Come From Away phenomenon of 2001.
Day 9 – Friday, June 9, 2023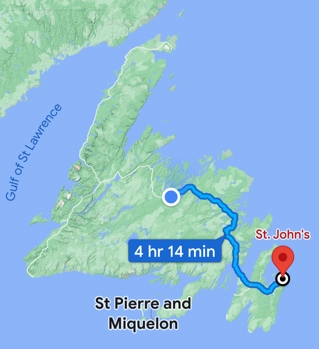 We completed the circle of our adventure today. We're back in St John's. Of course, the rain and fog have followed us here.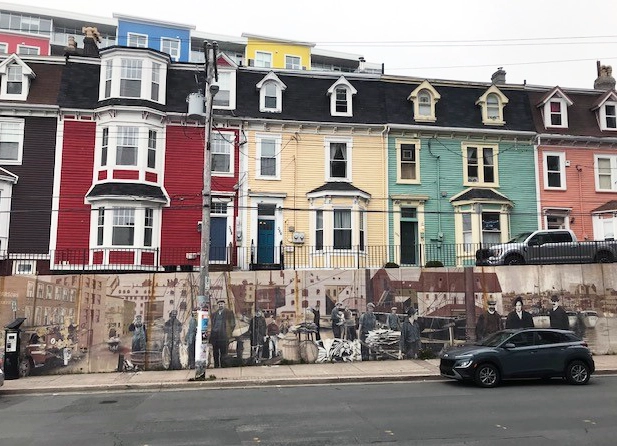 The city has the dramatic hills of San Francisco but with the quaintness of an outport village. Early in the last century, the houses were painted bright colours to counter the coal dust that settled on everything. Now we have Jelly Bean Row throughout St John's.
Our adventure of the day was visiting three Quidi Vidi landmarks. Quidi Vidi (more on the name later) is a tiny fishing outport founded around the same time a St John's in the 1600s. Yes, more than 400 years ago. St John's grew to swallow Quidi Vidi, which had remained a traditional fishing village. The latter is still an active outport for small independent fishermen.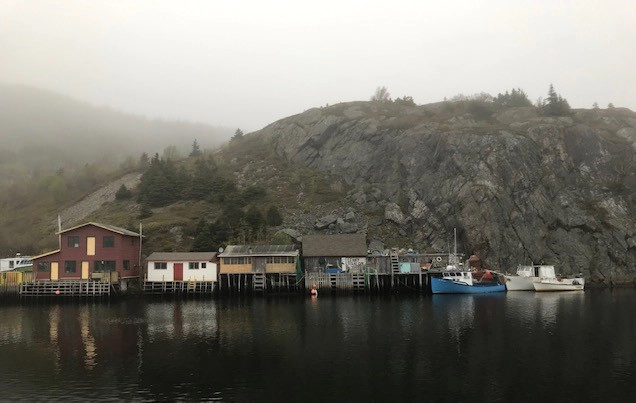 Quidi Vidi Brewery started up across from the fishermen's wharf about 20 years ago. It grew slowly to become the biggest craft brewery in the province, but it won't sell outside Newfoundland.
As Donna's son Tyler quipped, "Wow! 10 days in Newfoundland and now Mom's a beer drinker!"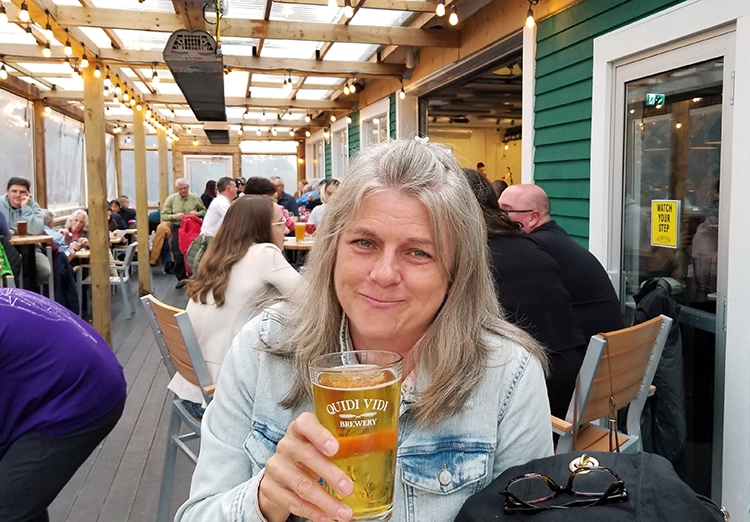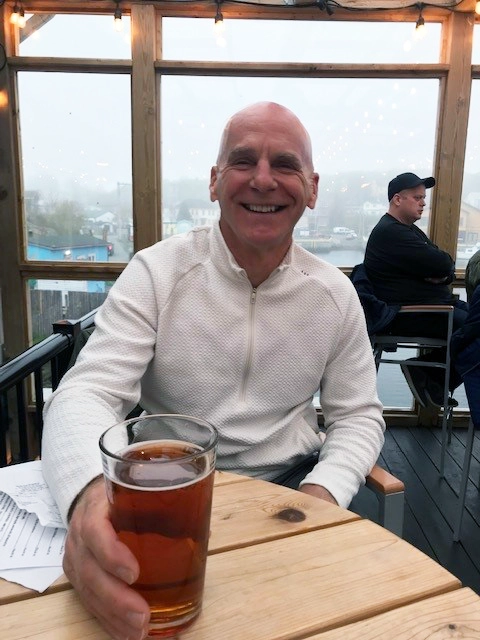 And WOW! on the 1892 Traditional Ale.
A few steps away was Mallard Cottage, where we had the best dinner of our adventure. How can smoked carrots possibly taste so good?
Bob kept looking around for the ducks (how From-Away of him). Turns out, of course, Mallard is the name of the early fishing family who built the cottage. It is  ancient, but beautifully restored and expanded. Its life as a restaurant began in 2013.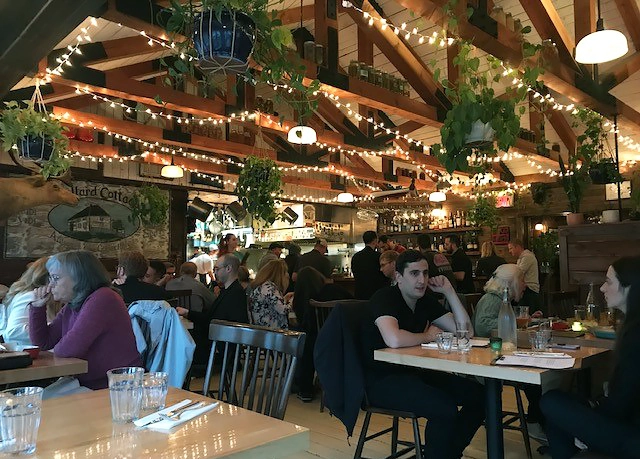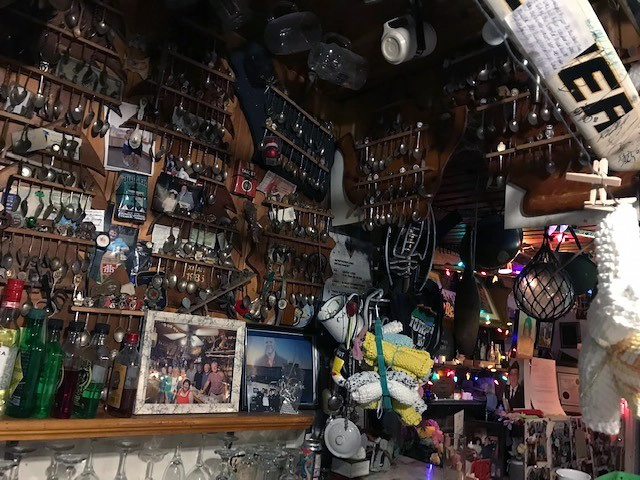 Then a few more steps to The Inne of Olde. From the outside, you get a bit of the Bates Motel vibe—the NL version that is. We tiptoed in to an empty pub with generations of memorabilia on the walls, particularly souvenir spoons.
Then Linda, the pub's famous proprietor, appeared and regaled us with the best stories we've heard yet.
There's a hint of bitterness in Linda's tone about the gentrification of her little outport, but she doesn't dwell on it. On the on-going controversy about the source of the name Quidi Vidi, Linda says it's from the Portuguese, the earliest fishermen here. And it's pronounced Key-da Vy-da, and means something like, "here is the divide". When you think about how the village inlet must look arriving from the sea, that makes sense.
More customers came in who were clearly friends of Linda. She was engaged with them when we finally said goodbye, but she ran out from behind the bar to hug and cheek-kiss both of us. We wondered if she does that with everyone. As we left, we spotted a photo of Linda hugging Jason Momoa—so maybe the answer to our question is 'Yes'.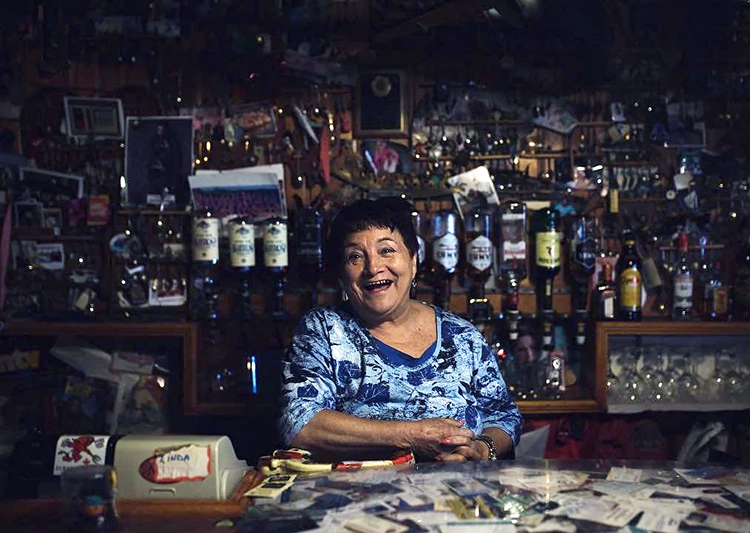 Day 10 – Saturday, June 10, 2023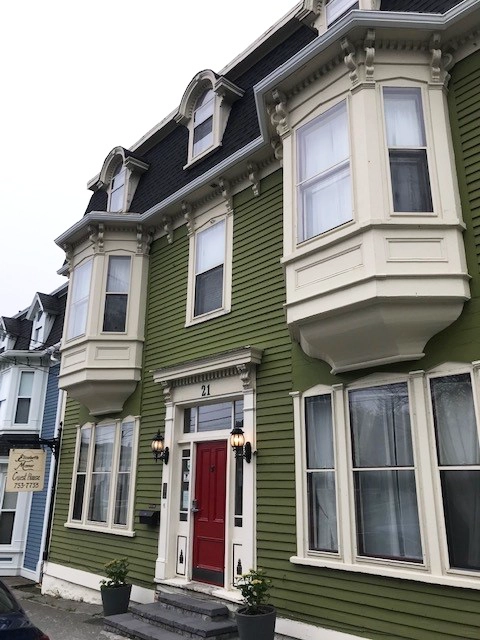 Over breakfast at out B&B, we chatted with Rob, our host. When we mentioned our four-compass-points-of-Canada bucket list, he told us he has been to Ellesmere Island—the northmost point. He was a commercial helicopter pilot, lived in Calgary and flew transport and rescue all over the Arctic. During COVID, he brought his family to Newfoundland—his birthplace. Now he's a corporate pilot out of St John's, with a much easier working schedule. He bought the Elizabeth Manor B&B, which is next door to his home in St John's, and this is how we came to be sitting in his kitchen. Rob told us that like him, many ex-patriot Newfoundlanders returned home during COVID. Said Rob, dialing up his accent:
"You can always tell the Newfoundlanders in heaven. They're the only ones who want to go home."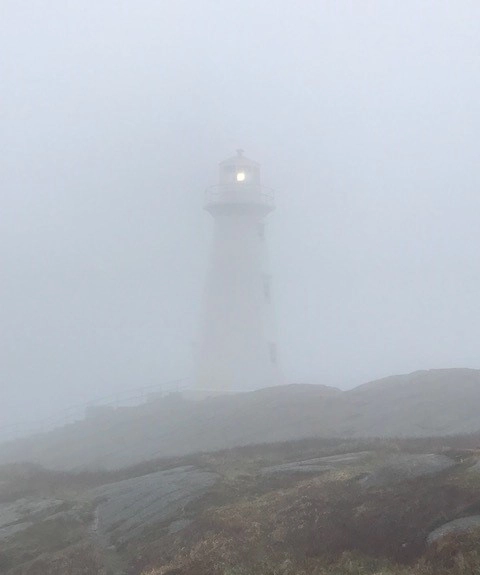 Today was the rescheduled visit to the most eastern point in Canada (and North America), Cape Spear.
Canada's first lighthouse is here. The original is a museum. The new operational one is run by computer. The views here would have been spectacular, but we were in Day 10 of fog, something Rob told us was unusual.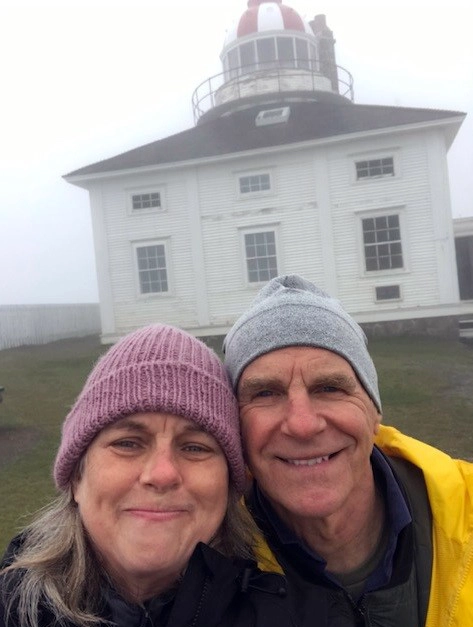 We finally made our goal! Officially.
Of course, Bob needed to go just a bit farther east.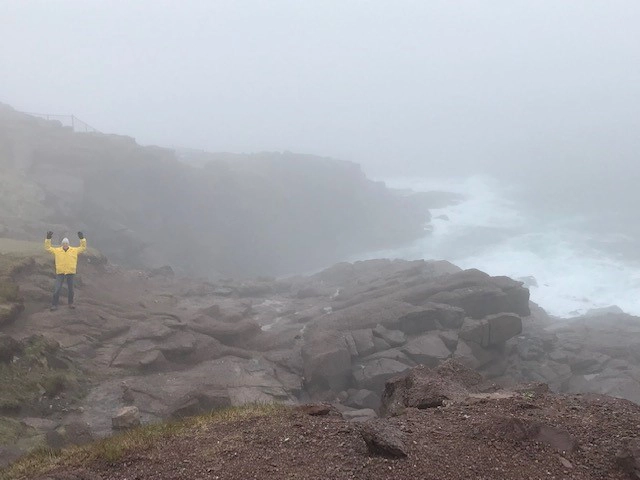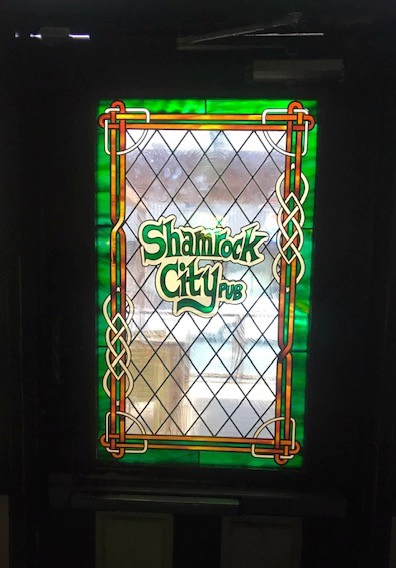 This was our last night in Newfoundland so we wanted to experience live local music. Rob recommended Shamrock City. This was as close as we were going to get to a kitchen or shed party and Bob got his moose burger fix here. We knew that was an option because Rob was the helicopter pilot for the hunters going out and the moose coming back to Shamrock City.
One of the three acts we saw was particularly good—Mark Manning (left) & Fred Jorgensen (right). The latter sings, plays multiple instruments (including the magical tin whistle), and seems to be revered by other musicians. They even took non-Irish song requests, making them all sound wonderfully Newfoundland-ish
You can hear a wee sample by the video play button at the bottom of the image right.
The first settlers here came to a daunting place for a purpose, which was fishing, and went no further. By the time the fishery faultered, they couldn't leave.  A saying from Donna's friend Louise perfectly sums up how we feel about our adventure:
"You don't come to Newfoundland for the weather, but you never leave disappointed."
Epilogue
Curiously, road signs say a lot a people and a place. Here are some we found interesting. Bob thinks the last one captures how Newfoundlanders approach life: