Coyote Marketing Inc is a group of eight senior marketing and communications professionals who practise coyote marketing. We believe that we and our clients can flourish in today's harsh business environment by adopting many of the same survival skills as our namesake.
Although we provide full-service integrated communications—media planning, creative and production for all communication disciplines—we tend to focus on up-front communications and marketing strategy. The point of being full service is not to provide a client with everything under the sun, but to be able provide the elements they really need. We often suggest that our clients maintain successful current supplier relationships. Our lean structure isn't intended as a cost benefit for clients. Rather, it allows senior people to work profitably on smaller pieces of business and produce big budget results.
One of the critical principles of coyote marketing is the formation of strategic alliances, either permanent or temporary, in addition to our core group of specialists. True specialists don't flock naturally, so this is the resourceful way to get the best talent to work on a client's business.
We've been at this for over 20 years now. We have a small but diverse—and in our opinion, very interesting—client list. We have a killer past-client list that you benefit from when you work with us today.
We strive to be simple and direct in our thinking and our creative. We will never be physically large. We will never have layers of management. This is the way we've chosen to work, having all done a tour of duty in big international advertising agencies and integrated communications companies.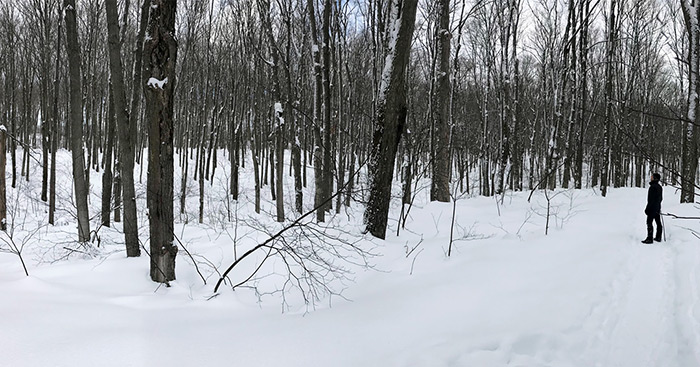 Bob hikes the winter woods of Collingwood
And when we're not waxing allegoric or poetic about marketing, we're real people. Usually doing real-people things.
If you would rather see how coyote marketing works as opposed to hearing about it, please see our business results.