Here's something that I went by recently and then was drawn back to when I realised what it was. In the Aug 19, 2013 analogue version of Marketing Magazine, there was a full page ad for Kimberly-Clark's Kleenex brand: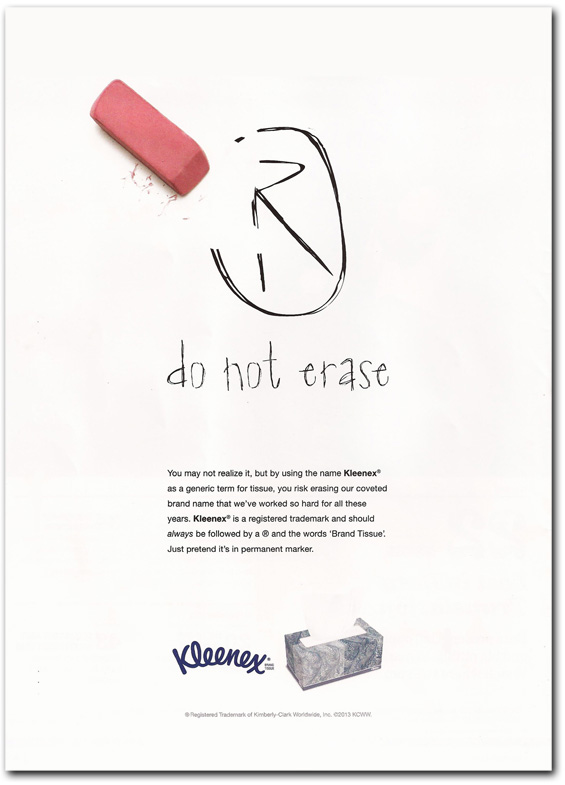 click ad to enlarge
Huh? One must assume that the intent here is to convince the Canadian marketing community to stop using Kleenex as a generic term for its product category and start thinking of it as a registered brand.
So now I'm supposed to say, for instance, "If I have to watch another [insert your reality show here] contestant be voted off the show/island tonight, you'll definitely need to pass me a Kleenexâ Brand Tissue". On a personal level, I don't think so.
As a marketing person, this just doesn't make sense to me. For years, we've been hearing about the powerful, rarefied status a brand achieves when it becomes the generic term for product category. It usually requires being first and it always requires being the biggest. Which, in turn, usually requires being the best. It means that buying any brand other than the one defining the category is a compromise on the consumer's part.
There aren't many of these brands:
Cadillac (as in the Cadillac of tissue brands)
Frisbee
Q-Tip
Ski-doo (at least for the first 30 years or so)
Velcro (which quickly spins into a bigger, different story about IP ownership)
Thinking this may be a clever joke clearly lost on me, I checked Kimberly-Clark out a bit. With over $21 billion in annual sales with brands like Kotexâ and Dependsâ, I'm pretty sure humour isn't in over-supply over at Kimberly-Clark.
A brand with generic name status for its category only stays that way by being the best. Not many possibilities for that in the tissue category, you say? Kleenex has just announced Achoo, its online flu prediction service, as the marketing platform for the next year's flu season. [1]
Kimberly-Clark should keep up the good work keeping its Kleenexâ brand tissue in the #1 position, and tell the legal department to lighten up on the trademark issue.
Don't erase the power of generic brand status.
Notes and references:
---
Advertising Age/adage.com, Sep 17, 2013.