We're starting to see this idea in the marketing industry media and we're hearing it from some of our peers. The idea that the marketing world will enjoy a post-COVID creative renaissance is a lovely thought. Then came Canada's record-breaking award haul at Cannes 2021 [1]. So let's explore this:
The Case for Creative Renaissance
The Roaring Twenties effect We heard this first from salespeople in the investment industry: The end of the Spanish Flu (and WWI) resulted in a decade of economic growth and rapid cultural change in the North America. Music, literature and the arts in general flourished. Paradoxically, Prohibition [2] helped make the Twenties roar. It gave us things like the cocktail (created to mask the taste of bootlegged alcohol) and the speakeasy-inspired Jazz Age. It gave creative Canadians like the Bronfman and Seagram families the opportunity to make fortunes selling alcohol to the US. In North America, the calamities leading up to the Twenties resulted in an existentialism-based joie de vivre. In the business world this manifested as more risk-taking and it was also true in the art and cultural worlds.
And so, with the calamity of COVID-19 almost behind us, more risk-taking in marketing will result in a creative renaissance.
The Case against Creative Renaissance
The in-house/dedicated agency trend We've covered this topic here previously. The in-house trend has increased since. Mostly with big marketers (AB InBev, Kraft Heinz, Loblaws), but also with smaller ones (Lyft, Wealthsimple). The trend has been more pervasive during the COVID-19 era in social marketing and (the ill-defined) digital marketing. But, as previously discussed, in-house agencies are generally not the risk-takers that great creative requires.
AI-generated creative This is real in social and digital media segments, which account for more than half of many brand marketing budgets. Adobe is heavily promoting its Customer Data Platform (CDP), which allows marketers to manage their own first-party data collection and digital ad targeting. It also includes an AI-based module that 'optimises' creative for digital media advertising. Crowdriff provides travel destination marketers with an application that scrapes social media platforms for relevant images, automates the usage consent process and then builds websites and/or landing pages for campaigns. AI apps now exist that build 'fanciful' images from text and generate descriptive text from images [3] . Neither Adobe nor Crowdriff technology spits out marketing creative starting from a blank piece of paper. But combined with the in-house agency trend, they do produce creative for social and digital campaigns. But AI-generated creative is optimised for specific digital media KPIs, like click-through rate. Not for liking a brand or brand positioning.
The proponents of this view say there's no creative renaissance without warm-blooded independent masters like Da Vinci, Shakespeare and Michelangelo.
Post-COVID Prognostication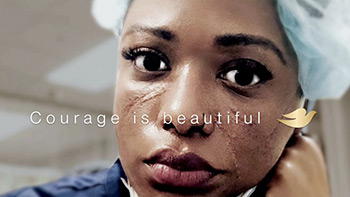 The winning-est Canadian creative at Cannes 2021, Dove's 'Courage is Beautiful' campaign.
As presented, the case for a creative renaissance depends on history repeating itself. 100-year history—or 600-year history if you go all the way back to The Renaissance Period. But the world is a lot different now than it was before the last pandemic, 100 years ago. While we hope for a renaissance in the arts, we don't see a post-COVID creative renaissance in the marketing industry. The case against seems stronger than the case for. But renaissance is there for individual brands that understand that great marketing creativity requires risk-taking. Well-considered, strategic risk-taking that most often comes from strong client/agency relationships. And of course, even more important than the awards that flow from creative risk-taking is the business results it gets. Yes, courage is beautiful.

Notes and references:
---
Josh Kolm, "Cannes Digest: Wrapping up a record-breaking year", Strategy, Jun 25, 2021.
Prohibition lasted in America for all of the 1920s. Canada's ended early in the decade.
OpenAI's DALL E and CLIP apps.