Experience has taught us that two of the most difficult things for today's marketers seem to be:
Sticking to a successful brand strategy in the long term. Meaning longer than five years.
Returning to a previous successful brand strategy when the current one fails.
Doing either of these things takes great personal conviction and courage, especially the second. And the first is perversely counter-intuitive. Or not, for the cynical—to be pursued later. First, let's look at two examples of marketing courage in the craft beer category.
Marketing Courage Example #1: Steam Whistle Brewing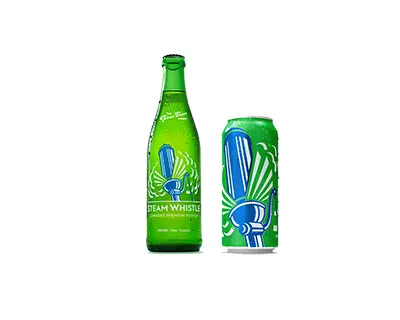 Steam Whistle started in 1998, near the beginning of Canada's most recent craft brewing cycle, in downtown Toronto (yes, this is not the first). At the beginning of the cycle, consumers and the trade aren't demanding multiple types of (premium-priced) craft beers and it's much more cost-efficient for the brewers to make only one or two beers. So like the great traditional European breweries from centuries ago, Steam Whistle made one beer. It was a very fine pilsner—an easy entry point to craft beer for the masses. Then came the 'Do one thing really, really well' slogan, leading Steam Whistle brand positioning. Good thing the slogan, liquid, packaging and brewery venue were so great, because Steam Whistle has always deemed itself too cool for marketing communications. Steam Whistle managed to stay with this brand strategy for almost 20 years, and grew to become the largest independently owned craft brewery in Canada [1].
In 2016, all of that began to changed with the exit of co-founder Greg Taylor. New beers and brands started appearing, the oddest and most out-of-brand-character being Von Bugle. This new brand strategy obviously didn't help profitability, because Steam Whistle's board of directors brought Greg Taylor back in 2020.
As CEO, Taylor returned Steam Whistle to one beer and original branding. The brand grew even during the pandemic. During which it was able to acquire another strong but financially-struggling Ontario craft brand, Beau's Brewing.
Marketing Courage Example #2: Side Launch Brewing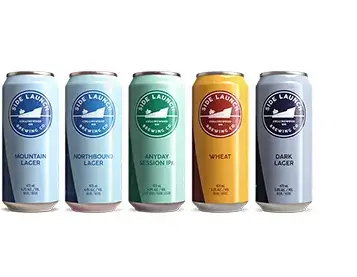 Side Launch started in 2014, in the second half of the current cycle, in Collingwood, Ontario. Master brewer Michael Hancock reworked his best Denisons-Brewing-era recipes to get Side Launch voted as Best Canadian Brewery in 2016 [2]. Other awards followed. Branding was focused on Collingwood's ship-building heritage.
Sales growth was huge but profitability was not. By 2019, Michael Hancock was removed and so was the hugely-popular Mountain Lager, among other Hancock beers, to make way for new trending craft beer types. Original ship graphics disappeared from packaging. All indications were that the ownership group was desperately trying to sell. Then COVID-19 hit. In October, 2022, Side Launch was acquired by Equals Brewing, a contract brewer from London, Ontario.
Though Equals had limited brand-building experience, President Justin McKellar did the right things for Side Launch:
The return of master brewer Michael Hancock [3].
The return of Mountain Lager.
A return to original master branding.
By all indications, the Side Launch brand is growing again. It remains to be seen if it can stay on the current strategic course, optimize its brand positioning and be profitable.
Conviction, Courage or Both?
Not to take anything away from what Taylor and McKellar have done for their brands, their specific examples required more conviction than courage. Neither CEO was personally responsible for their brand failure:
Steam Whistle's stumble began after Taylor left. He reinstituted his own successful strategy upon his return [4].
Equal's McKellar was not the architect of Side Launch's stumble, so it was easier for him to objectively determine what had worked well in the past and reinstitute it [5].
It takes courage to stay with a marketing strategy for the long term, even if it's working. The business world always wants more growth. The marketing world seems to always want what's new. Craft beer makers seem to want to be experimenters rather than artisans. As a result, being a traditionalist or contrarian to current trend takes courage.
Returning to the earlier 'perversely counter-intuitive' comment: Marketing strategy doesn't have to be your strategy, it just has to be the right strategy.

Notes and references:
---
As discussed here previously, the definition of a craft brewery isn't clear. Moosehead is Canada's biggest independent brewer by volume, but doesn't make beer the way a craft brewer does.
Canadian Brewing Awards, 2016.
Hancock did not return in the role of master brewer. According to current Side Launch management, "Michael was consulted after the acquisition and now spends a fair bit of time in the taproom, he is not involved in day-to-day operations at the brewery."
Taylor revealed in a 2000 interview that he was forced to leave Steam Whistle by the board of directors. Co-founder Cam Heaps assumed control of the company. This was, coincidentally, just before Frank Heaps, craft beer luminary, board chair and Cam's father, retired from the board. Upon his return, Taylor became CEO.
Side Launch's original ownership group were not beer industry veterans. Most (or all) were financial services veterans whose inclination was to apply private equity or software start-up expectations to their craft beer investment. After the board ousted their original CEO (the impressive Garnet Pratt Siddall), the company seemed to be run by the board.