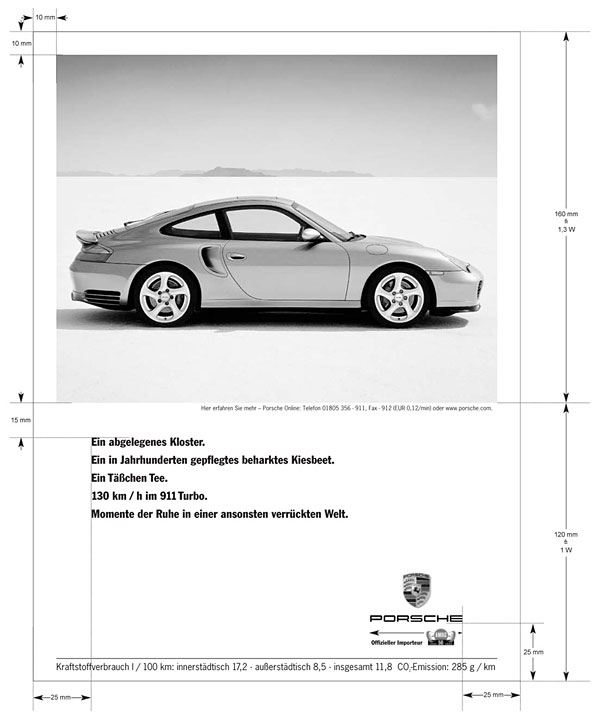 Marketing gurus and practitioners are constantly talking about how vitally important it is to project a consistent brand image. And it is. Everyone understands this best at the literal level, which has resulted in the creation and enforcement of corporate or brand identity guidelines.
These can range from single-page logo sheets to encyclopedic sets of huge, beautifully-designed and richly-printed books and binders that cover brand image rules in all of its possible forms. Everyone recognizes the inherent wisdom of the phrase "think globally, act locally", but rigorous corporate identity (CI) standards definitely put the emphasis on the thinking globally part.
At several different times and places in my career, I've had the good fortune of working with the Volkswagen, Audi and Porsche brands. For those of you who don't know, Porsche is just now (in 2011) falling under the technical ownership and control of Volkswagen AG. With Porsche, Volkswagen Group's brand portfolio now numbers more than 10. But VW and Porsche started with the same engineer, so their history together is the deepest and their DNA is the closest of the group. Acquired in 1965, Audi is a relative newcomer to Volkswagen Group.
Each of VW, Audi and Porsche has extensive and similar CI manuals, which all suppliers and partners are expected to adhere to, in every country where the brand is present. The problem is that these guidelines were developed in the era when the magazine media was king for carmakers—before the Internet, if you can imagine that. Creating ads outside of magazines puts you outside CI standards in seconds. The graphic template or ad grid makes communications mostly a copywriting exercise. Graphic design is reduced to photo selection. The grid makes big ideas very difficult to come by.
Over the last couple of years, Audi Canada seems to have gone its own way in marketing communications, clearly different than Audi in America and other mature markets around the world.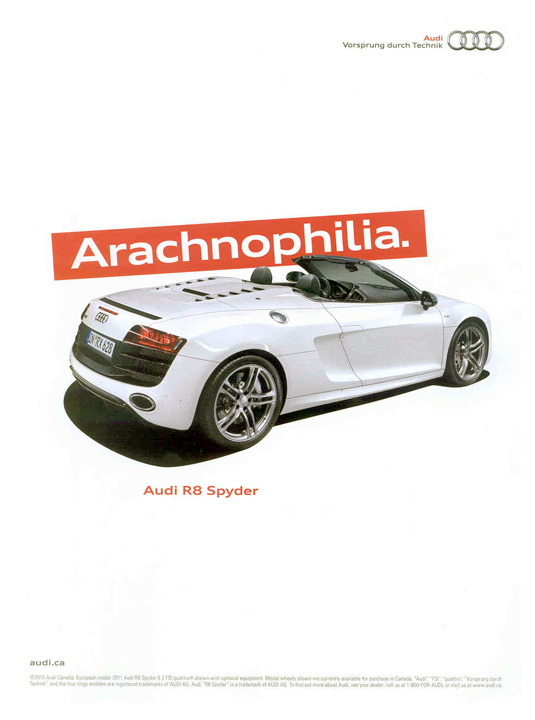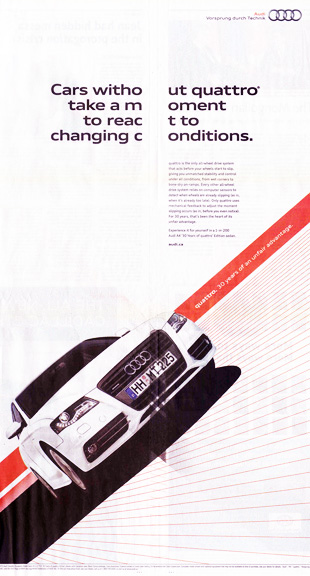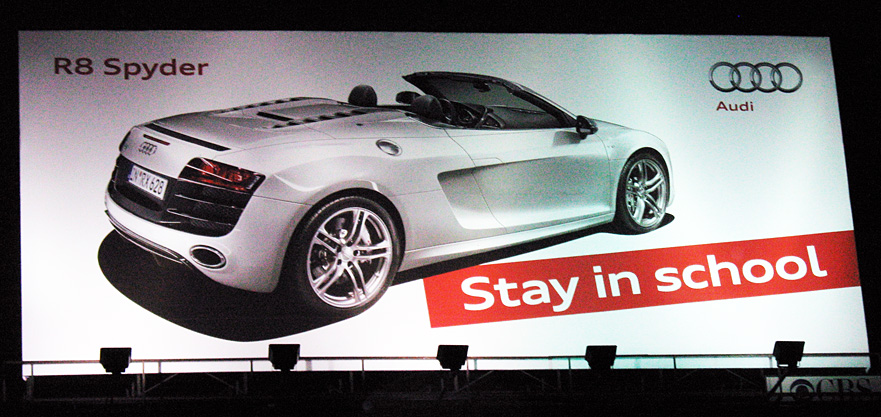 Now take a look at the recent business results for the Audi and Porsche brands in Canada and the USA, keeping in mind that Porsche Cars Canada, Porsche Cars North America (US) and Audi of Amercia are by-the-CI-book marketers. Audi Canada is not.


Porsche Cars Canada is certainly doing well, all things considered, but Audi Canada is on fire. Audi is on fire around the world too, driven by emerging market success, which actually has little to do with marketing, and more to do with model policy, manufacturing and distribution. But Audi's recent success in Canada—a mature market for the brand—means it is doing a lot of things right, and marketing communications is clearly one of them.
Congratulations to Audi Canada for being brave enough to trust their agency Lowe Roche in working outside the grid. This is really living the wisdom of "think globally, act locally".