About a month ago, Mary Meeker, aka The Queen of the Internet, delivered the annual report that Silicon Valley loves the most: the Internet Trends report [1]. It's also reported in the marketing media. This year's report is a 333-page slide deck that Meeker presented in 30 minutes at the 2019 Code Conference in Scottsdale, AZ. That would be 5 seconds per slide if she were addressing every one. So even though she excluded some, it's a very fast review. To be fair, Meeker started her bit by saying that the report was meant to be read, not presented, "so the critiques about the presentation style are justified".
Assuming that tech people look at this report the same way parents look at their preschooler's monthly newsletter—scan for their kid's picture, then toss aside—we decided to look at the entire deck and Meeker's curated presentation of it.
Here's what we found interesting, beyond the widely-reported findings:
Deeper on Internet Trends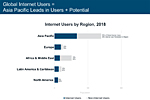 Slide 10: Global Internet Users = Asia Pacific Leads in Users + Potential
The US is at 90% Internet penetration but Asia Pacific potential should be tempered here. Based on economics, penetration of the second 50% of Chinese and Indian population won't go nearly as quickly as the first half. Also, the use of the Internet in those countries' unpenetrated population will be very different than it is in the US.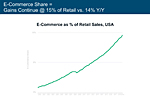 Slide 20: E-Commerce Share = Gains Continue @ 15% of Retail vs. 14% Y/Y
Only 15% of total retail? You would think e-commerce would be more like 20% to 25% given the massive marketing attention and investment it gets. Canadian e-commerce is currently at 9%, much lower than the US, another curiosity.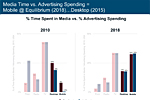 Slide 22: Media Time vs. Advertising Spending = Mobile @ Equilibrium (2018)…Desktop (2015)
More interesting is that the radio medium (which we love) remains an uncluttered bargain, with the share of time spent in the media 50% greater than its share of total media investment.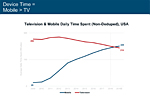 Slide 46: Device Time = Mobile > TV (for the first time)
This refers to unduplicated viewing minutes in the US, but still, we're surprised it took so long. US smartphone penetration is over 75% and most users have their phones with them 24/7.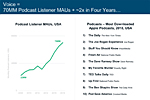 Slide 50: Voice = 70MM Podcast Listener MAUs + ~2x in Four Years…
We've heard some reports on the rise of podcasts as a medium, with its powerful native advertising possibilities, but this is impressive! Much like the radio medium.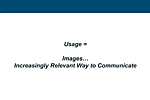 Slides 71-87: Images
(as opposed to words)
…Increasingly Relevant Way to Communicate
Looks like we're in Marshall McLuhan's Postliterate Society (
see sidebar here
). This does not mean it's the way to go for non-social media, nor for social media if you want to stand out from user-generated content. But sometimes, image-only is the perfect creative approach, regardless of the medium.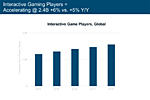 Slide 89: Interactive Gaming Players = Accelerating @ 2.4B +6% vs. +5% Y/Y
Yes, 63% of the world's 3.4B Internet users are interactive gamers. Hard to understand for those that didn't grow up with online gaming. Looks like it's leading us here:
Slide 232
. We're guessing Meeker isn't a gamer.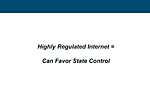 Slide 204: Highly Regulated Internet = Can Favor State Control
Thank you, Captain Obvious. This is important set-up for what comes later.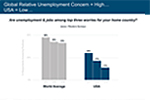 Slide 215: Global Relative Unemployment Concern = High…USA = Low…
Yes, the current and recent US unemployment rate is low by historical standards, but now employment includes on-demand work. Almost half of Americans doing on-demand work were previously unemployed. Another 27% considered themselves 'underemployed'. Currently, on-demand work is mostly transportation (Uber, Lyft, etc) and food delivery (DoorDash, GrubHub, etc), which support few lifestyles. With the
End of Work
scenario looming, America's lack of concern about unemployment is alarming.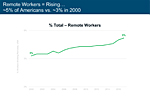 Slide 229: Remote Workers = Rising…~5% of Americans vs. ~3% in 2000
Only 5% and rising very slowly (compared to every other chart in the deck)? Working remotely seems like a very good idea for many industry sectors.
Slide 258: Online Education Costs = Can Be Lower vs. Offline
But only for out-of-state students, based on this slide. Huh? What is clear is that after set-up, the cost of providing online education is lower than offline.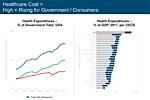 Slide 270: Healthcare Cost = High + Rising for Government / Consumers
The healthcare section was set-up by a 'USA Inc' section
[2]
. The latter concludes US entitlement payments are unsustainable and rising. This slide shows that US healthcare costs are the highest in the world at 18% of GDP and a big component (23%) of entitlement payments. Meeker provides multiple examples of how online/tech companies can help reduce those healthcare costs, but not the really big ones like administration and drug costs (where the US is also a world leader). To be fair, these latter big costs are structural and/or systemic, not process-related in a way that online technology can significantly address. Meeker ends this section with a Tim Cook quote that suggests healthcare is the next focus of Big Tech
[3]
.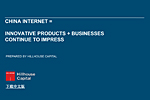 Slides 293-332: China Internet = Innovative Products + Businesses Continue to Impress
This seems like a disconnected add-on. In her live presentation, Meeker spends less than :20 seconds on these 39 slides. The section was created by Hillhouse Capital. Bond Partners, Meeker's associates at her current technology investment fund/company
[4]
, created the rest of the report. We get that China's Internet shows impressive innovation. Remember Captain, we read Slide 204—China's Internet is state-controlled for the purpose of helping execute the (non-democratic) government's agenda. No, China's control of its Internet and the companies innovating in it does not impress.
Summary
There is great content in the Internet Trends 2019 report for marketers, but it's not created for marketers. It's created for venture capitalists and others who invest in Internet-based technology companies. There's a definite we will save the world theme in Meeker's report, despite the admission that the Internet has caused or contributed to some of the problems we need to be saved from.
As disclosed on the report's final page, Bond Partners, "owns significant equity positions in certain of the companies referenced in this presentation." $40M+ in Jack Dorsey's Square, for example [5]. Hillhouse Capital's investment focus is on Chinese Internet companies. There is the possibility of serious research sponsor bias behind Internet Trends.
In Meeker's words, "[we need] to work together to amplify good and minimize bad [on the Internet]". Call us crazy marketing people, but we would add that means not over-amplifying the good nor over-minimising the bad in analysis, based on your personal or business interests.
Notes and references:
---
Rani Molla, "Mary Meeker's most important trends on the internet", vox.com/recode (Vox recode), Jun 11, 2019.
"[Healthcare] is very important for people. We are democratizing it. We are taking what has been with the institution & empowering the individual to manage their health. We're just at the front end of this." – Tim Cook (CEO of Apple), Jan 2019.
USA Inc is an analysis of the United States as if it were a company. This approach was created by Mary Meeker when she was with venture capital company Kleiner Perkins.
Meeker's relationship with Bond Capital and Kleiner Perkins is, as they say, complicated. Meeker worked for Kleiner Perkins from 2010-2018, where she built and managed the $1B Kleiner Perkins Digital Growth Fund III. She left Kleiner Perkins to start her own fund, called Bond Capital, but still manages her Kleiner Perkins fund. There is no legal entity called 'Bond Partners'. Source: Kate Clark, "Mary Meeker raises $1.25B for Bond, her debut growth fund", techcrunch.com, Apr 24, 2019.
By our calculation, 20% of tech start-up & Internet growth brands/companies mentioned in Internet Trends 2019 are in the Kleiner Perkins Digital Growth Fund III portfolio. This does not include the Chinese brand/company mentions in the Hillhouse Capital section. Also excluded are Meeker's investments being made through Bond Capital. The first reported investment in Canva, which is in the report.